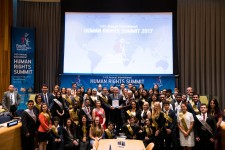 Promoting Canadian values of tolerance and inclusiveness at the 14th Annual Human Rights Youth Summit of Youth for Human Rights International
TORONTO, September 19, 2017 (Newswire.com) - As a nation, Canada takes great pride in its diverse, multicultural, multi-ethnic population and the importance of human rights. Yet. conflicts are rising around the world and global issues such as human trafficking, civil unrest, military coups and political upsets happen every day, and Canadians are feeling their impact. That is why Toronto Youth for Human Rights volunteers were eager to attend this year's 14th annual Human Rights Youth Summit at the United Nations on August 24 to 27. Youth for Human Rights Ambassadors Abeir Liton and Kristina Kisin and this year's Youth Delegate Langni Zeng met with representatives from 41 other nations, eager to learn, network and applaud human rights activism.
Langni Zeng, a high school student with a passion for social justice, noted, "There's nothing more inspiring than being in the same room with hundreds of like-minded youth from all over the world. Getting to share stories and ideas with the common goal of promoting human rights has left me eager to share all that I've learned and continue my community service. After my experience representing Canada at the Summit, I feel better equipped to lead and to make a difference."
Abeir Liton and Kristina Kisin of the Toronto chapter of Youth for Human Rights were among those who gave presentations on their activities to bring about human rights awareness. Youth delegates exchanged information on their successful actions and networked on resources others can use to accomplish their programs. There were also workshops and training sessions on skills to help the delegates become even more confident and effective in their activities.
Canada was well-represented in the presentations made to the youth delegates. Panelists who addressed important aspects on the value of human rights education included Ambassador Michael Grant, Deputy Permanent Representative of Canada to the United Nations; and Ms. Padmini Padiachy, Vice Principal with the York Region District School Board.
Ms. Padiachy, who has collaborated with Youth for Human Rights to bring human rights education to schools in the York District, stressed the importance of the Summit, stating, "Human Rights education is imperative to our society because it raises an awareness of the impact of one's actions and attitudes to bring about transformation and progressive change."
Toronto Youth for Human Rights Director Nicole Crellin is proud of the accomplishments of her Youth Ambassadors and Delegates, who have returned home eager to implement what they have learned. "These youth are not the leaders of tomorrow — they are the leaders of today, making human rights a reality in their own communities and schools."
The Church of Scientology and Scientologists support United for Human Rights and its program for young people, Youth for Human Rights. These groups engage in collaborative efforts with government agencies and nongovernmental organizations to bring about broad-scale awareness and implementation of the 1948 United Nations Universal Declaration of Human Rights.
Source: ScientologyNews.org
Share: