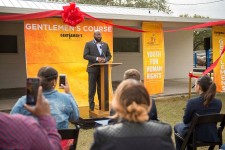 Florida nonprofit forms partnership with Youth for Human Rights and launches educational campaign during Human Trafficking Awareness Month to make an impact on human trafficking in a state that has become a hotbed of the modern-day slave trade.
TAMPA, Fla., February 1, 2018 (Newswire.com) - In 2017, 329 cases of human trafficking were reported in Florida. How many actually occurred is anyone's guess as so many take place below the radar, says Mr. Christopher King, entrepreneur, community activist and grandson of blues legend BB King.
"With human trafficking Florida's number one silent crime, we're rated second in the nation," says King. "Being a father of two beautiful children, I would truly not like for my children to be victims of such things."
"We change our youth, they'll change our future."

Christopher King, founder of the Gentlemen's Course nonprofit
King was introduced to United for Human Rights at a luncheon for the Tampa Bay Charity Coalition—an association of nonprofits whose bimonthly meetings are hosted by the Church of Scientology at the Fort Harrison in Clearwater.
King decided to partner with United for Human Rights and incorporate its program for young people, Youth for Human Rights, into the Gentlemen's Course, a nonprofit organization he founded to empower young men and woman and put them on the path to success.
"I truly feel that if people can teach racism and evil, we can teach greatness and humanity," says King.
A year ago, King arranged to hold a Great Gatsby-themed "Gentlemen's Ball" as a fundraiser for the Florida Coalition against Human Trafficking. And in June he organized the second one to benefit Selah Freedom, Florida-based national nonprofit helping survivors of sex trafficking and exploitation.
King began delivering human rights education to Tampa Bay youngsters in libraries, clubs, and schools. And on January 13, he opened the new headquarters for the Gentlemen's Course at King's Forest Recreation Center in Tampa, where he plans to reach a broad cross-section of Tampa youth to educate them on this vital subject. Raising awareness of human trafficking not only helps young people protect themselves, their friends and members of their families from becoming the unwitting victims of predators, it also helps them become more aware of possible instances of trafficking and teaches them how to report them.
The motto of King's Gentlemen's Course is, "We change our youth, they'll change our future."
"If more people took the time to give a youth something constructive to do, you would change that child's whole perspective," says King. "You intervene momentarily and it changes the course of life for that child long-term with that one moment. if we took more time to just instill more knowledge in our youth then we would change our future, which is the mission of the Gentleman's Course."
The Church of Scientology and Scientologists support United for Human Rights, the world's largest nongovernmental human rights education campaign, reaching out in 195 countries in 27 languages and embraced by 2,300 activists, officials, groups, and organizations. The initiative is inspired by the work of humanitarian and Scientology Founder L. Ron Hubbard and his conviction that "It is vital that all thinking men urge upon their governments sweeping reforms in the field of human rights."
For more information, visit the Scientology website.
Source: ScientologyNews.org
Share: