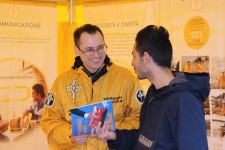 Scientology Volunteer Ministers from the Church of Scientology Mission of Modena, Italy, reach out with one-on-one help and "tools for life."
MODENA, Italy, April 8, 2018 (Newswire.com) - A team of Scientology Volunteer Ministers set up their bright yellow tent in the center of Modena this week to make it easy for people to access support for whatever they need.
Inside the tent, they offered assistance with anything from family conflicts to workplace challenges, from learning difficulties to setting and achieving goals.  
Volunteer Ministers made it easy for people to discuss the difficulties they were encountering in life. They then directed them to technology made available by Scientology Founder L. Ron Hubbard expressly for the Volunteer Ministers program to help people resolve life issues.
The Church of Scientology Volunteer Minister program is a religious social service created in the mid 1970s by L. Ron Hubbard. Anyone of any culture or creed may train as a Volunteer Minister and use these tools to help their families and communities. The Church provides free online training on the Volunteer Ministers website.
In creating the Volunteer Ministers program, L. Ron Hubbard wrote, "If one does not like the crime, cruelty, injustice and violence of this society, he can do something about it. He can become a Volunteer Minister and help civilize it, bring it conscience and kindness and love and freedom from travail by instilling into it trust, decency, honesty and tolerance."
Source: ScientologyNews.org