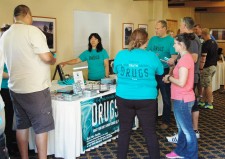 Helping School Safety Officers protect Washington youth from the state's deadly drug epidemic.
LEAVENWORTH, Wa., October 16, 2017 (Newswire.com) - With Washington State kids growing up in the midst of a pervasive state-wide drug abuse epidemic, volunteers from the Seattle chapter of the Foundation for a Drug-Free World attended the annual Washington School Safety Organization Conference in Leavenworth, Washington, to ensure officers have the drug education tools they need.
In Washington State, prescription opioids and heroin have caused an estimated 700 deaths a year since 2006, a matter of grave concern to the general public and state officials.
School Safety Officers (SSOs) are charged by the state's Superintendent of Public Instruction with protecting Washington children from crime, gangs, and drugs in and around Washington schools, and effective drug education materials are an essential element in their carrying out of these responsibilities.
The Truth About Drugs curriculum of the Foundation for a Drug-Free World is in use by School Resource Officers and School Safety Officers nationwide because of its impact — it gets through to youth and involves them, getting them thinking about the effects drug use can have on their future.
Foundation volunteers held a seminar at the conference to train SSOs to implement the Truth About Drugs curriculum in their schools. They also set up a booth where officers obtained copies of the Truth About Drugs Education Package, which contains youth-friendly booklets and the award-winning Truth About Drugs: Real People Real Stories documentary and public service announcements, lesson plans, activity guides, and posters: every element necessary to deliver the program in classroom or seminar settings.
Truth About Drugs is a favorite of many SSOs. One from Marysville, Washington, for example, wrote in to the Foundation thanking them for the program, stating, "The quality of the materials and the way the information is presented is great for all ages from middle school to adult and I consider them a very valuable tool to help me do my job and educate the public about the dangers of drug use."
Committed to ending the drug epidemic and convinced of the importance of providing effective drug education to children before they get into trouble with drugs, the Church of Scientology and its members support the Foundation for a Drug-Free World. As a result, the Foundation makes the Truth About Drugs campaign materials available free of charge to all educators, SSOs, SROs, mentors, and anyone wishing to use them to educate youth.
For more information visit the website of the Foundation for a Drug-Free World.
Source: ScientologyNews.org
Share: