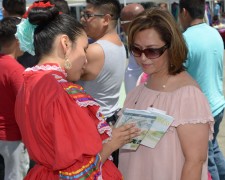 The Way to Happiness Foundation of Washington has launched a campaign to uplift neighborhoods in their state with a nonreligious moral code called The Way to Happiness: A Common Sense Guide to Better Living.
Kent, Washington, June 8, 2016 (Newswire.com) - A team of Seattle volunteers brought the message of The Way to Happiness booklet to the 8th annual Kent International Festival. A common-sense moral code, it is used in countries the world over by people of virtually every culture and creed.
That makes The Way to Happiness a perfect fit for this culturally diverse community. More than 130 languages are spoken by children in the Kent School District and the festival featured a broad array of cultures from countries such as Mexico, Ireland, Uzbekistan, Samoa, Turkey, Afghanistan, India, Taiwan and various other African and Asian nations.
"The precepts in The Way to Happiness form a guideline that anyone can use to take charge of their lives," said the coordinator for the Washington state chapter of The Way to Happiness Foundation.
Embracing traditional values, it also includes know-how people can learn to deal with discrimination or bullying. And it empowers people to help others and to make a difference in their neighborhoods and beyond.
Written by author and humanitarian L. Ron Hubbard, In the book's epilogue he wrote:
"Happiness lies in engaging in worthwhile activities. But there is only one person who for certain can tell what will make one happy – oneself.
The precepts given in this book are really the edges of the road: violating them, one is like the motorist who plunges off onto the verge – the result can be wreckage of the moment, the relationship, a life….
One can feel that things are such now that it is much too late to do anything, that one's past road is so messed up that there is no chance of drawing a future one that will be any different: there is always a point on the road when one can map a new one. And try to follow it. There is no person alive who cannot make a new beginning."
Since 2015, the Washington chapter of The Way to Happiness Foundation has distributed some 10,000 copies of The Way to Happiness from Spokane to Seattle.
The Church of Scientology and its members are proud to share the tools for happier living contained in The Way to Happiness will all who seek to make the world a better place. The campaign to distribute the book has been embraced by more than 257,000 groups and individuals, with some 115 million copies given out in 186 nations.
For more information about The Way to Happiness go to www.thewaytohappiness.org.
Source: ScientologyNews.org
Share: