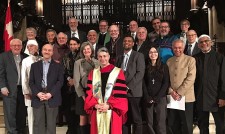 In the wake of senseless violence, Church of Scientology Toronto hosts interfaith service to affirm cooperation among diverse religious communities.
Toronto, Canada, February 22, 2017 (Newswire.com) - ​​The Church of Scientology of Toronto joined members of the city's many diverse faiths in celebrating World Interfaith Harmony Week. Held in February each year, the United Nations-designated week was established to affirm that "mutual understanding and interreligious dialogue constitute important dimensions of a culture of peace."
An interfaith service at the Church of Scientology Toronto sent a special message of support to Canadian Muslims, particularly the families of those killed January 29 in St. Foy, Quebec.
Rev. Earl Smith delivered the sermon, based on an essay by Scientology Founder L. Ron Hubbard, "What is Greatness?"
"It requires real strength to love Man. And to love him despite all invitations to do otherwise, all provocations and all reasons why one should not. Happiness and strength endure only in the absence of hate. To hate alone is the road to disaster. To love is the road to strength. To love in spite of all is the secret of greatness. And may very well be the greatest secret in this universe."
Imam Habeeb Alli, member of the Canadian Council of Imams and Community Development Manager for the International Development Relief Foundation, addressed the congregation:
"If I feel angry, and I have felt angry, and if I feel jaded and disturbed, I have to find that barrier within myself and climb out of it. I have to chip it away or smash it. We have to make one more day, one more life, one more community, one more generation—a better and loving generation. We're in this together. May God bless you as we try to make a difference."
The Scientology service was one of many held that week in synagogues, churches, temples and other places of worship throughout Greater Toronto, where faiths came together to teach, pray, offer support and to reach out.
Rev. Smith also joined faith leaders from the Toronto Area Interfaith Council at the Metropolitan United Church for the Multifaith Vigil for Healing and Peace. And the Church of Scientology co-sponsored a World Interfaith Harmony Week concert at Noor Cultural Centre, featuring music from many faith traditions.
For more information on the importance of freedom of religious belief and conscience, visit ScientologyReligion.org.
Source: ScientologyNews.org
Share: