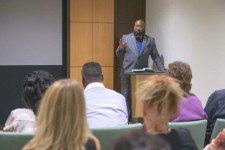 The Way to Happiness Association of Tampa Bay hosted a seminar at the Scientology Information Center in Clearwater, Florida, where entrepreneur Christopher King covered three precepts for success in business and in life.
Clearwater, Florida, June 5, 2016 (Newswire.com) - At a seminar at the Scientology Information Center in downtown Clearwater, Tampa Bay entrepreneur and community activist Mr. Christopher King covered precepts from The Way to Happiness that he says are key to success: "Take Care of Yourself," "Set a Good Example," and "Safeguard and Improve Your Environment."
He emphasized that by following these precepts one establishes a firm foundation as an individual. From there one can more confidently reach out to accomplish ones goals and plans.
Mr. King, the grandson of the legendary B.B. King, has built a fashion brand, an acting career and a nonprofit organization—The Gentlemen's Course—that provides life skills to youth. He frequently holds seminars covering the essentials of business etiquette, branding, marketing and what it takes to succeed.
Written by L. Ron Hubbard and published in 1981, The Way to Happiness is a commonsense guide to better living—a means of arresting the current moral decline in society and restoring integrity and trust to humankind. The campaign to distribute the book has been embraced by more than 257,000 groups and individuals, with some 115 million copies given out in 186 nations.
For more information on Christopher King, please visit www.kingthebrand.com.
Source: ScientologyNews.org
Share: