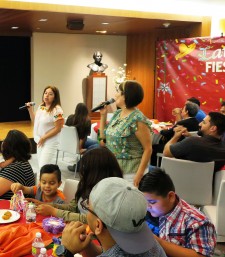 With a community as diverse as Los Angeles, there is always something to celebrate at the Church of Scientology.
LOS ANGELES, May 11, 2018 (Newswire.com) - People from more than 140 countries, speaking 224 different identified languages, currently call Los Angeles home. And as the Church of Scientology makes its facilities available to nonprofits for their events, there is a wide variety of celebrations hosted there throughout the year.
Just one example was the festival held in the chapel May 5 for Mexican and other Latin American communities. More than 30 guests gathered at the church to dance, sing and celebrate in a joyous Cinco de Mayo celebration — a tradition in California's huge Latin community.
Cinco de Mayo commemorates the Mexican Army's victory at the Battle of Puebla in 1862 in the Franco-Mexican War. For Mexicans-Americans, the holiday represents Mexican culture and pride.
Two guests performing karaoke inspired the crowd to take part in the singing, with an energy typical of the spirit the Mexican community brings to the city of Los Angeles.
Those attending were delighted with the surprise performance of an Ecuadoran singer who shared his passion and talent for Mexican music, entertaining everyone present. The singer spoke of his pleasure in supporting Cinco de Mayo as a symbol of the freedom-loving Mexican community.
The Church of Scientology Los Angeles is proud to host these celebrations and support the cultural traditions of the city's many vibrant communities.
Those attending were warmly invited to return Saturday, May 12, for the celebration of the anniversary of the publication of Dianetics: The Modern Science of Mental Health, the most widely read and influential book ever written about the mind.
Source: ScientologyNews.org
Share: