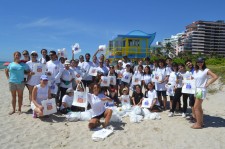 Volunteers chip in on a cleanup in Miami to preserve one of their city's most cherished resources.
MIAMI, September 4, 2018 (Newswire.com) - Volunteers from the Miami chapter of The Way to Happiness Foundation participated with other local volunteer groups in a beach cleanup on the theme of this year's World Environment Day: stop plastic pollution.
Taking a page from The Way to Happiness by humanitarian and Scientology founder L. Ron Hubbard, the foundation and the Church of Scientology Miami organized a team of volunteers to hit the beach with buckets, gloves and bags.
Mr. Hubbard incorporates environmental responsibility into this nonreligious common-sense moral code. He points out:
"The idea that one has a share in the planet and that one can and should help care for it may seem very large and, to some, quite beyond reality. But today what happens on the other side of the world, even so far away, can effect what happens in your own home."
Case in point is the problem of plastic pollution. In his World Environment Day message this year, UN Secretary-General António Guterres said, "Every year, more than 8 million tonnes end up in the oceans. Microplastics in the seas now outnumber stars in our galaxy."
The World Environment Day website gives examples of cleanups and other activities that can curb and even bring this destruction under control, such as an Amsterdam factory, targeted to open this year, that will use previously unrecyclable plastic to create fuel for diesel-powered cargo ships.
The Way to Happiness continues: "There are many things one can do to help take care of the planet. They begin with the idea that one should. They progress with suggesting to others they should.
"Man has gotten up to the potential of destroying the planet. He must be pushed on up to the capability and actions of saving it.
"It is, after all, what we're standing on."
The Way to Happiness was written in 1981. Immensely popular since its first publication, it has been embraced by more than 250,000 groups and individuals, with some 115 million copies distributed in 115 languages in 186 nations. It holds the Guinness World Record as the single most-translated nonreligious book and can fill the moral vacuum in what some consider an increasingly materialistic society.
The Church of Scientology and its members are proud to share the tools for happier living contained in The Way to Happiness.
Source: Scientologynews.org
Share: