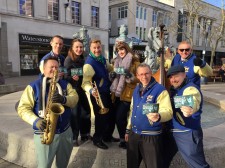 Britain's Got Talent 2012 semi-finalists, the Jive Aces, rocked the streets of Portsmouth, England, February 15, to reach out to people about the dangers of drugs.
PORTSMOUTH, England, February 18, 2018 (Newswire.com) - Shoppers in the heart of Portsmouth were treated to a none-too-typical Thursday afternoon February 15, when the Jive Aces, UK's No. 1 jive and swing band, joined the Duettes, a Kent-based retro harmony group, for an afternoon of unexpected music and fun, along with the message: people need to find out the truth about drugs.
Statistics just released by the National Health Service reveal the importance of their drug education and prevention campaign:
7,545 drug-related hospital admissions last year
14,053 hospital admissions with a primary diagnosis of poisoning by illicit drugs
2,593 registered deaths in 2016 in England and Wales related to drug misuse
Drug misuse-related deaths are at their highest level since comparable records began in 1993.
Jive Aces' lead singer and bandleader Ian Clarkson describes the band's commitment to their drug prevention campaign. "People look up to musicians and see them taking drugs and think that they then have to use them to be a great artist," he says. "What they don't realize is that without drugs they would be a lot happier, play a lot better and live a lot longer."
The Jive Aces use drug education materials produced by the Foundation for a Drug-Free World that educate children and adults about the dangers of drugs with youth-friendly, fact-based drug education booklets and videos. While traveling the world to perform at festivals and clubs, the Jive Aces organize free concerts such as this one in Plymouth, where they hand out copies of these booklets.
"When I was a teenager, I used to smoke grass and drink alcohol but that led me to unhappiness," says Clarkson. "I gave it all up. I then realized that it was imperative as a musician to take action against this social plague and so we have been supporting the campaign for over 20 years."
The Britain's Got Talent 2012 semi-finalists are regulars at the Glastonbury Festival and have performed at Royal Albert Hall and at Buckingham Palace for the Coronation Festival in 2013 celebrating the 60th anniversary of the Queen's Coronation.
The Foundation for a Drug-Free World is a nonprofit public benefit corporation that empowers youth and adults with factual information about drugs so they can make informed decisions to live drug-free.
Drug-Free World partners with civic and nongovernmental organizations including more than 1,200 police departments in the United States. Through its worldwide network of volunteers and partnerships, it has distributed 8 million copies of Truth About Drugs booklets over the past year — more than 80 million copies since the booklets were first published in 2006.
After extensive social research, author, humanitarian and Scientology founder L. Ron Hubbard called drugs "the single most destructive element present in our current culture." The Truth About Drugs is one of the worldwide humanitarian programs supported by the Church of Scientology.
Source: ScientologyNews.org
Share: