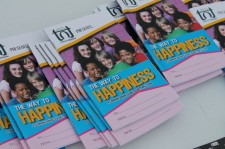 Sharing peace-building tools with the St. Louis interfaith community at the annual PeaceFest celebration
ST. LOUIS, November 6, 2017 (Newswire.com) - St. Louis PeaceFest represents an interfaith commitment to safe communities. The annual event, held Oct. 28 this year, is sponsored by Better Family Life (BFL), a nonprofit dedicated to creating positive changes in the lives of individuals and families.
Despite near-freezing temperatures, community leaders came out to participate in this year's PeaceFest. It was originally scheduled for Sept. 16, but riots broke out in St. Louis the day before following the not-guilty verdict of white police officer Jason Stockley, accused of first-degree murder in the shooting death of a black heroin dealer.
As a result, PeaceFest 2017 was postponed until late October. It was held in Forest Park, site of the 1904 World's Fair and considered one of the most beautiful urban parks in the world.
BFL invited religious leaders to participate in the PeaceFest as part of its campaign to renew the role of church as the central point for the community and for churches to work together to rid neighborhoods of the gangs, drugs and crime that are destroying the city.
The Church of Scientology St. Louis brought two of its humanitarian campaigns to the PeaceFest to reach out to other community and religious leaders and share the benefits of the programs.
Youth for Human Rights has been used in cities around the world to counter bullying and crime. Its purpose is to inspire young people to become advocates of tolerance and peace by educating them on the principles enshrined in the UN Universal Declaration of Human Rights.
The Way to Happiness is a booklet whose common-sense values provide a moral compass to people of all faiths and beliefs. Only three years ago, when violence erupted over the fatal police shooting of Michael Brown in nearby Ferguson, religious leaders used The Way to Happiness to restore peace in their communities.
The Way to Happiness Foundation publishes the booklet with custom covers for community groups, police departments, businesses and churches to hand out to staff, customers, clients and communities. The volunteers brought copies of booklets that were customized for two local organizations, the St. Louis Black Film Festival and Teens of Tomorrow nonprofit, who hand out copies of the moral code as a public service to those participating in their activities.
For more information, visit the Scientology Newsroom.
Source: ScientologyNews.org
Share: