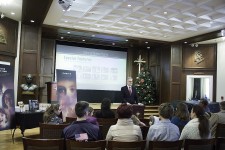 The Church of Scientology Nashville raises awareness of human rights in commemoration of the 69th anniversary of the Universal Declaration of Human Rights.
NASHVILLE, Tenn., December 21, 2017 (Newswire.com) - The Nashville Church of Scientology introduced young people to their most basic human rights in a special program organized for International Human Rights Day.
The day commemorates the United Nations 1948 adoption of the Universal Declaration of Human Rights (UDHR), the world's premier human rights document. Despite the best intentions of those who crafted the Declaration, 69 years later human rights issues abound. In his Human Rights Day message, UN Secretary-General António Guterres pointed out that "the fundamental principles of the Universal Declaration are being tested in all regions … We see hatred, intolerance, atrocities and other crimes. These actions imperil us all."
If we don't educate the next generation on their rights, what kind of world will we be living in?

Rev. Brian Fesler, Director of Public Affairs Church of Scientology Nashville
U.N. High Commissioner for Human Rights Zeid Ra'ad al Hussein stated, "The universality of rights is being contested across much of the world… It is under broad assault from terrorists, authoritarian leaders and populists who seem only too willing to sacrifice, in varying degrees, the rights of others, for the sake of power. Their combined influence has grown at the expense of liberal democratic order, peace and justice."
In the belief that understanding these rights is central to their implementation, Church of Scientology Nashville pastor Brian Fesler organized a Human Rights Day educational program for children. The youngsters attended with their families to learn about the rights enshrined in the UDHR. "If we don't educate the next generation on their rights, what kind of world will we be living in?" said Fesler.
Human rights are an integral part of the Scientology religion. The Creed of the Church of Scientology, written in 1954 by Scientology Founder L. Ron Hubbard, begins: "We of the Church believe: That all men of whatever race, color or creed were created with equal rights." And the Code of a Scientologist calls on all Scientologists "to support true humanitarian endeavors in the fields of human rights."
The Church of Scientology and Scientologists support United for Human Rights, the world's largest nongovernmental human rights education campaign, active in 192 countries and partnering with 1,500 groups and organizations. The initiative is inspired by Mr. Hubbard's conviction that "It is vital that all thinking men urge upon their governments sweeping reforms in the field of human rights."
For more information about the Church of Scientology or its programs, visit the Scientology website.
Source: ScientologyNews.org
Share: