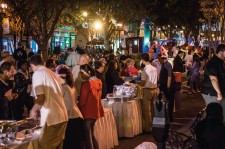 Great food and music and family fun for all at the first downtown Clearwater block party of 2018, compliments of the Church of Scientology
CLEARWATER, Fla., February 5, 2018 (Newswire.com) - Thousands filled the streets for the first of the year's Church of Scientology block parties in downtown Clearwater, Florida. It was a night of live jazz, great food from the church's own chefs and some of Clearwater's favorite food trucks (all food and beverages complimentary), a raffle for a $500 gift card and games and rides for the kids.
There were also booths for 10 local nonprofits and the church's six humanitarian and social betterment centers on Fort Harrison Ave. were open to introduce visitors to local community programs and services.
When one of our friends finds out about your block parties, they mass-text all our friends.

Guest at the Church of Scientology Block Party
"We came down from Orlando when we heard you were holding another block party — one of our friends saw it on Facebook. We came to one about six months ago and we liked it so much, we didn't want to miss it," said one family.
"I really appreciate these parties — they bring the community together," said a woman from Clearwater.
"When one of our friends finds out about your block parties, they mass-text all our friends," said another guest.
"Just look at all the kids," said a local attorney. "They are having a wonderful time. Here you have space for everything. I went to all the nonprofit booths — you have such a great mix of charities. And the food is always spectacular."
At the Scientology Volunteer Ministers Center, a mother noticed the massage tables and came to check it out. "I was wondering what was the deal with them," she said. "Then your volunteer told me about assist technology, and I love it." Assists are Scientology techniques that help restore a person's communication with their body. Developed by Scientology founder L. Ron Hubbard, they speed healing by addressing the emotional and spiritual aspects of stress and trauma. "I received my first assist today and I haven't felt that relaxed in a long time. While I was receiving the assist, my kids started a course and we will be back to learn how to give them to each other."
"I have been to several people with my husband to try to figure out what is wrong with our relationship," said another woman. After watching the video on marriage at the Volunteer Minister Center she said, "I understand what is happening and that we can actually do something to change it."
When he learned about The Way to Happiness, Mr. Hubbard's nonreligious moral code based entirely on common sense, one man said, "I think this is something that can be used anywhere and with everybody. Thank you for what you are doing."
A man was overheard talking to his friend on his cell phone. "There's a party happening where everything is free. Everything. Music, food, games. There's even a raffle. It's the best." he said. "You guys have to come over. You do not want to miss it."
One of the emergency medical technicians who was there to see to the safety of the guests decided he'll do the next block party as a guest. He described a recent event he worked at where a fight broke out and one guy ended up needing stitches. "I know that would never happen at one of your parties," he said.
In addition to music and food, families enjoyed the petting zoo, pony rides, eight different carnival games, balloon artist, train rides, the fire truck and a bouncy house. Family- and community-oriented, the block party is not only fun, it promotes positive change in the Clearwater community.
Scientologists have been active in community service in Clearwater for more than four decades. But the impact of these activities was tremendously accelerated in 2015 with the opening of the Scientology Information Center and six humanitarian and social betterment facilities in downtown Clearwater.
In the dedication ceremony, Scientology ecclesiastical leader Mr. David Miscavige said that as Clearwater is home to the religion's spiritual headquarters, "we now bring the full breadth of our programs to this city, the city in which we live, the city that is our home — Clearwater, Florida."
Source: ScientologyNews.org
Share: