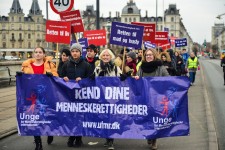 Church of Scientology Denmark initiates a year-long campaign to raise awareness of the Universal Declaration of Human Rights
COPENHAGEN, January 8, 2018 (Newswire.com) - For the year leading up to the 70th anniversary of the Universal Declaration of Human Rights (UDHR), the Church of Scientology Denmark has organized a series of programs to raise awareness of the document — a vital step in attaining full implementation of these rights for all.
They began the year with an open house and human rights forum held in the Chapel of the Church, a spacious four-story atrium. The theme of the program was inclusion and the importance of guaranteeing spiritual human rights.
The following day, the Church and the human rights initiative it supports, Youth for Human Rights, participated in a conference co-organized by Soteria International and ENAR (European Network Against Racism).
Youth for Human Rights then marked the 69th anniversary of the Universal Declaration of Human Rights with their 9th annual Human Rights Walk and conference. Some 70 students and their teachers marched through the streets of Copenhagen bearing a banner and placards promoting the 30 articles of the UDHR, with young people taking a stand against violence and for peace by beginning the walk in Noerrebro — an area troubled by gang activity.
The walk ended at the Nørrebrohallen sports complex where students delivered freestyle raps and other performances highlighting the human rights they consider most important.
Additional activities planned include a series of workshops where students will participate in writing articles, producing videos and other artistic activities to promote awareness of human rights.
The Church of Scientology and Scientologists support United for Human Rights and its program for young people, Youth for Human Rights, the world's largest nongovernmental human rights education campaign, active in 192 countries and partnering with 1,500 groups and organizations. The initiative is inspired by humanitarian and Scientology Founder L. Ron Hubbard's conviction that "It is vital that all thinking men urge upon their governments sweeping reforms in the field of human rights."
For more information about the Church of Scientology or its programs, visit the Scientology website.
Source: ScientologyNews.org
Share: