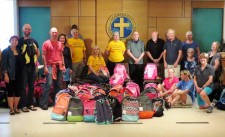 Scientology Volunteer Ministers join in an annual project organized by Interfaith Ministries of Greater Queen Anne to help underserved kids get their school year off to a good start.
SEATTLE, September 21, 2017 (Newswire.com) - Scientology Volunteer Ministers hosted a project in the Chapel of the Church of Scientology Seattle organized by the Interfaith Ministries of Greater Queen Anne.
The annual project benefits the children of Mary's Place, a voice for homeless women, children and families in emergency situations.
At the start of school each year, local congregations and concerned groups and individuals collect school supplies and backpacks to help Mary's Place kids get off to a good start. Twenty-eight volunteers sorted and packed school supplies into new donated backpacks to be given to young students. Backpacks contained flash drives, pens, pencils, paper, dictionaries, highlighters, notebooks and glue sticks.
Seattle-based Amazon.com then hosted an event where more than 300 kids not only left wearing new backpacks, they also received additional school supplies, shoes, clothing, and haircuts.
For more information visit the Mary's Place website.
Source: ScientologyNews.org
Share: