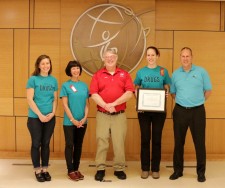 With the state of Washington in the throes of a deadly opioid epidemic, volunteers from the Seattle chapter of Foundation for a Drug-Free World reach out with effective drug education to end drug addiction before it begins.
SEATTLE, November 5, 2017 (Newswire.com) - ​Volunteers with the Seattle chapter of Foundation for a Drug-Free World fanned out over western Washington in October to help educators reach youth with the truth about drugs.
At the Society of Health and Physical Educators conference, volunteers distributed more than 11,000 sets of drug education materials. Many teachers approached their booth to thank them for the program and let them know they were already using it successfully. At the Washington Traffic Safety Education Association conference, some 8,300 sets of materials were distributed. Educators at both conferences ordered many Truth About Drugs Educator Kits, which contain the curriculum and all elements for delivering it in a classroom or seminar setting: a set of 14 booklets covering the most frequently abused drugs and award-winning Truth About Drugs: Real People Real Stories documentary and public service announcements.
Drug-Free World volunteers also organized a Red Ribbon Week open house at the Church of Scientology Seattle, featuring Gerald Apple, Coordinating Secretary for the Washington Traffic Safety Education Association (WTSEA).
Mr. Apple cited the most recent Healthy Youth Survey released in March 2015 by the Washington State Department of Health which found that while fewer youth reported driving in cars with friends who have been drinking, almost one in five high school sophomores and one in six seniors had ridden with a driver on marijuana.
The survey also covered emerging trends related to marijuana and he stressed that the importance of reaching youngsters with effective drug education is that teens using marijuana or alcohol are at greater risk of addiction than those who delay alcohol and other drug use until 21 or older.
Mr. Apple uses the Truth About Drugs program in his work. "I give these materials out at our parent night for driver's ed. We use this program in our traffic safety education classes and I really appreciate the Drug-Free World for supplying those materials." He ended his speech by presenting a certificate of appreciation to the Seattle Drug-Free World volunteers.
The Foundation for a Drug-Free World (FDFW) is a secular nonprofit corporation that empowers youth and adults with factual information about drugs so they can make informed decisions to live drug-free. The Church of Scientology and its members support the Foundation for a Drug-Free World, whose Truth About Drugs campaign is one of the world's largest nongovernmental drug education and prevention initiatives. Thanks to this support, the Foundation provides — free of charge — drug education booklets, videos and educator guides to teachers, mentors and civic and community leaders.
For more information visit the Scientology Newsroom.
Source: ScientologyNews.org
Share: