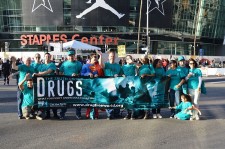 The Los Angeles chapter of Foundation for a Drug-Free World and other nonprofits brought the truth about drugs to thousands at this year's NBA All-Star game
LOS ANGELES, February 26, 2018 (Newswire.com) - In a three-day crusade they called "Truth About Drugs All-Stars," the Los Angeles chapter of the Foundation for a Drug-Free World reached out to basketball fans over 2018 NBA All-Star weekend with the truth about drugs. With the country in the midst of an overdose epidemic and some 4,600 Californians dying of drug overdose in 2017, to reach as many people as possible with their drug prevention initiative, volunteers handed out more than 30,000 copies of Truth About Drugs booklets around the Los Angeles Staples Center where the game took place.
Truth About Drugs booklets empower youth and adults with factual information about drugs so they can make informed decisions to live drug-free. Drug-Free World volunteers were joined by other community groups including Strike Out Against Drugs and the One Percent Foundation. In all, 70 volunteers came out to participate.
The booklets provide factual information and dispel false ideas about commonly abused drugs including marijuana, one of the world's most abused substances. With an ever-growing gap between the latest science about marijuana and the myths surrounding it, those reading the booklets learned vital information including the effects of marijuana use on driving and how the drug has changed over time.
Many of the fans thanked the volunteers for what they were doing. "We met so many people who are concerned about the proliferation of marijuana use and how that will affect generations to come," said June, one of the organizers of the activity. "Several people requested drug education lectures, including one who works with homeless youth and another who asked us to come speak at their church."
The Los Angeles Drug-Free World chapter offers free drug education training to anyone wishing to help people avoid the tragedy of drug abuse and addiction.
Available in 22 languages, these illustrated publications are easy to understand, each booklet featuring factual information and real stories from former users that strike a chord with people of all ages. The booklets encompass synthetic drugs, alcohol, ecstasy, cocaine, crack cocaine, crystal meth, inhalants, heroin, LSD, ADHD medications abuse, painkillers and prescription drug abuse.
The Church of Scientology and its members support the Foundation for a Drug-Free World, a secular nonprofit corporation that empowers youth and adults with factual information about drugs so they can make informed decisions to live drug-free. The Foundation's Truth About Drugs campaign is one of the world's largest nongovernmental drug education and prevention initiatives. Free education packages are available for educators, law enforcement officers and other drug prevention specialists so they can share this information with students age 11 and older in classroom, group instruction or community learning settings.
According to the United Nations Office on Drug Abuse and Illicit Trafficking, "Every dollar spent on prevention can save governments up to ten dollars in later costs."
For more information or to request materials, visit DrugFreeWorld.org or call 888-NO-TO-DRUGS (888-668-6378).
Source: ScientologyNews.org
Share: