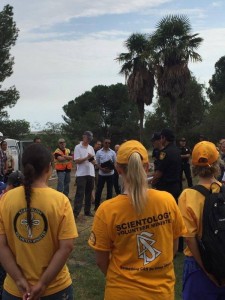 Volunteer Ministers provided relief for firefighters battling the blaze.
LOS ANGELES, September 7, 2017 (Newswire.com) - Labor Day weekend was no holiday for the hundreds of firefighters battling the La Tuna fire in Glendale and Burbank that tore across the Verdugo Mountains. They battled the blaze in the midst of a heatwave with temperatures reaching as high as 115 degrees.
By Tuesday, September 5, the fire, which burned some 7,000 acres of land and triggered hundreds of evacuations in Glendale and Burbank, was 70 percent contained. Mayor Eric Garcetti described it as the biggest fire in the history of the city, burning some 7,000 acres of land.
Los Angeles Scientology Volunteer Ministers (VMs) worked near the fire line helping support the firefighters by providing them water and food while another VM team rescued animals at the Hansen Dam Equestrian Center.
The Scientology Volunteer Ministers program is a religious social service created in the mid 1970s. For more information, visit the Scientology Volunteer Ministers website.
Source: ScientologyNews.org
Share: