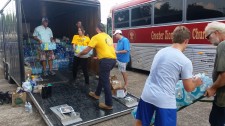 With attention now riveted on Hurricane Irma, more than 50,000 are still displaced in Houston and neighborhoods are flooded. Help is still needed in Texas.
Beaumont, Texas, September 10, 2017 (Newswire.com) - ​Teams of Scientology Volunteer Ministers continue to arrive in Houston to help Texas recover from Hurricane Harvey.
Early this week, a company in Tampa, Florida, sent a truckload of supplies and several employees who are Volunteer Ministers to Houston. They brought along two canoes and stocked up on canned goods, water, and snack bars.
"We were on the road to Texas by 3:30 that afternoon," said Michael, one of the Volunteer Ministers. "I have a truck and trailer so we were able to manage everything. Three of us traveled in my truck and one other traveled down from our Dallas office to meet us."
They drove straight through and by six in the morning the following day they made it as far as Beaumont—about 90 miles from Houston.
"We made several attempts to drive to Houston but failed," he says. "All roads were flooded."
They eventually went back to Beaumont, located the shelter there and dropped off their supplies. It was very appreciated—it turned out the shelter was completely out of food and families were still arriving.
The following day they loaded their boats into two trucks and headed out to Port Arthur, some 25 miles away. "We saw the worst flooding I have even seen," says Michael. "The police were blocking traffic into the city and only allowed us in because we had boats."
They launched the boats from the freeway and made their way into unknown waters, quickly finding their way to a retirement home with a hospital wing. Teaming up with the Cajun Navy, a volunteer group out of Louisiana, they evacuated the premises, ferrying the residents to safety. They continued going house to house, bringing residents out by boat. By the end of the day, they estimated they had rescued between 50 and 100 people, most of them sick and elderly. Other Scientology Volunteer Ministers with motorboats, rowboats, canoes, and trucks were also bringing stranded families and pets to dry land throughout the region.
Teams of Scientology Volunteer Ministers are working in Beaumont, Houston, Holiday Beach, Rockport and Le Grange. And hundreds more are needed to help residents salvage their homes. As the water recedes, the cleanup begins: Mucking out homes and businesses, getting rid of the mud, discarding moldy furniture, cutting out carpets, replacing floors, and walls. It is arduous work.
The Scientology Volunteer Ministers program is a religious social service created in the mid-1970s. Their Hurricane Harvey disaster response has been made possible by a grant from the International Association of Scientologists.
Hurricane Harvey may be the most expensive in U.S. history at an estimated cost of over $190 billion. If you can help, contact the International Scientology Volunteer Ministers Headquarters in Los Angeles at (800) HELP-4-YU or (323) 960-1949 or email disasterresponse@volunteerministers.org.
Source: ScientologyNews.org
Share: