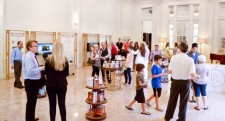 Celebrating mothers at a special musical Mother's Day event May 1 at the Scientology Information Center
Clearwater, FL, April 14, 2016 (Newswire.com) - The Scientology Information Center in Clearwater, Florida, invites mothers to attend a musical Mother's Day reception May 1—an evening when they can kick back and enjoy refreshments and hear their favorites played by piano virtuoso Kathy Roberts. The reception will take place from 6 to 8pm.
Celebrations of mothers and motherhood date to the ancient Greek and Roman civilizations. America's Mother's Day was first celebrated in 1908 and was the subject of a proclamation by President Woodrow Wilson May 9, 1914, setting aside the second Sunday of May "as a public expression of love and reverence for the mothers of our country."
Hostess for the reception, Amber Skjelset, has planned a special evening for Clearwater moms and any mothers visiting from out of town, and to honor them for what they do every day to make life special for their families.
For more information on the Scientology Information Center, please contact Amber at 727-467-6961.
The Scientology religion was founded by humanitarian and philosopher L. Ron Hubbard. The first Church of Scientology was formed in the United States in 1954 and the religion has expanded to more than 11,000 churches, missions and affiliated groups, with millions of members in 167 nations. The Church in Clearwater is the international spiritual headquarters for Scientology.
Scientologists are optimistic about life and believe there is hope for a saner world and better civilization, and actively do all they can to help achieve this. The Scientology Information Center opened in July 2015 and has welcomed over 8,000 visitors.
Source: Scientology Information Center
Share: