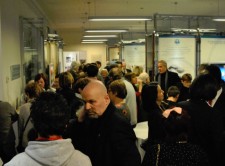 The Brussels branch of Churches of Scientology for Europe celebrated its seventh anniversary January 26 with a dinner and presentation to local dignitaries and friends.
Brussels, Belgium, February 6, 2017 (Newswire.com) - Diplomats, members of parliament and religious and community leaders joined Scientologists from across Belgium January 26 for the celebration of the seventh anniversary of the dedication of the Brussels branch of Churches of Scientology for Europe.
Church staff and parishioners, friends and community partners gathered at the Church's expansive Information Hall at Boulevard de Waterloo 100-103 for a reception, hors d'oeuvres and buffet dinner. Visitors mingled with friends old and new, toured the art exhibition showcasing the works of local artists, and viewed the many video presentations illustrating the beliefs and practices and humanitarian programs of the Church and life and legacy of Scientology Founder L. Ron Hubbard.
The evening continued with a concert of classical works interpreted by violin and cello ensemble Duo Benvenuta and a presentation in French and Flemish of the highlights of the past six years: the landmark legal victory for the Church of Scientology in March 2016 and an overview of the Church's many humanitarian and social betterment activities.
The Brussels branch of Churches of Scientology for Europe is an Ideal Scientology Organization, configured to service Scientologists in their ascent to spiritual freedom and as a meeting ground of cooperative effort to uplift people of all denominations.
Read the article on the Scientology Newsroom.
Source: Brussels branch of Churches of Scientology for Europe
Share: