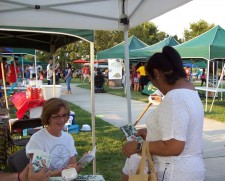 Church of Scientology-sponsored humanitarian campaigns bring practical solutions to North Sacramento crime prevention event.
NORTH SACRAMENTO, Calif., August 18, 2017 (Newswire.com) - Volunteers from the Church of Scientology Sacramento joined in the Robla Community Parks National Night Out to share effective solutions to reduce crime and drug abuse.
National Night Out is an annual community-building campaign that promotes police-community partnerships and neighborhood camaraderie to make neighborhoods safer, more caring places to live.
Among the many nonprofits attending were Sacramento chapters of The Way To Happiness Foundation and the Foundation for a Drug-Free World, both sponsored by the Church of Scientology Sacramento.
The Way To Happiness Foundation brought copies of the booklet from which it takes its name. The Way to Happiness is used in programs to reduce crime and set youth and adult offenders on the correct path. It has been used to assist community crime prevention efforts and employed in the training of police and correctional officers. Written by author and humanitarian L. Ron Hubbard, the book is a nonreligious common-sense guide to better living. While providing a moral code anyone may adopt, it also reveals the basic precepts by which people can lead happier lives.
One of the features of the book is its identification of basic human virtues to guide people in treating others as they themselves would like to be treated. The local director of the Foundation said "It is not enough to just have the book and read it. The real power is implementing those precepts personally and in the community. This is where the power of community-building can really come to life."
The Foundation For a Drug-Free World brought the acclaimed Truth About Drugs drug education materials to the event to give parents what they need to discuss the subject with their sons and daughters. Volunteers also reached out to children and teens about the growing drug problem, with information that will help them make informed decisions live drug-free.
"Nowhere will you find the breakdown of communities more evident than from the effects of drug abuse," said the chapter director. "Drugs affect everyone in our community. They have a direct impact on violence and crime. So whenever we can be at events such as these, you will find us there working to educate and improve the community."
The Truth About Drugs materials feature information on drugs and how they affect the body and mind. With more than 25 years of experience helping kids live drug-free, the Foundation has found it is far more effective to educate youth on the effects of drugs than to simply tell them to "Just Say No." They need to understand what drugs are and what they do if they are to keep their perspective despite peer pressure to experiment with these substances.
Both campaigns are supported by Scientologists and the Church of Scientology, who make it possible to provide these materials free of charge to those wishing to use them to resolve some of the most pressing issues that confront communities today.
For more information visit the Scientology website.
Source: ScientologyNews.org
Share: