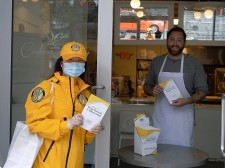 As British Columbia looks ahead to reopening, a team of volunteers is making sure people understand best practices for prevention
VANCOUVER, British Columbia, May 22, 2020 (Newswire.com) - As local residents look forward to the reopening of BC businesses and parks, Scientology Volunteer Ministers in their yellow jackets and prevention gear are visiting businesses in their neighborhood to ensure everyone has what they need to stay well.
Scientology Volunteer Ministers of Vancouver donned their masks and gloves and visited businesses and community service centers in the Downtown Eastside and metro Vancouver area distributing educational booklets.
"As facilities open, it is vital that people understand and use prevention. An important part of preventing the spread of infection is educating the public on the virus, and how to personally take effective safety measures," says Susan Kerr, Community Affairs Director for the Church of Scientology of BC.
To this end, the Church of Scientology has published booklets for everyone to read and apply: How to Keep Yourself and Others Well; How to Protect Yourself and Others with Masks and Gloves; and How to Prevent the Spread of Illness with Isolation.
The booklets point out that although most people know that viruses spread, what they often do not realize is that contagion is possible during "incubation periods" — before the person shows symptoms or realizes they are sick. That is why it is so important that safety precautions always stay in place to reduce the risk of spreading disease. By implementing the basic guidelines in these booklets, people can enjoy the relaxed regulations while still taking an active role in ensuring the health of their friends, families, and those they meet on the street, in stores, and at work.
"We are concerned about the future and how to keep the curve flattening," says Kerr. "There is the threat of the second wave which could be more daunting than this first round and now people are increasing their interaction which could present an ever-increasing danger. Providing education to everyone will give all of us a chance to beat this virus."
Scientology Volunteer Ministers serve in times of disaster at home and across the globe, from the 9/11 terrorist attacks in New York City to hurricanes, tsunamis, and the California wildfires and Australian bushfires of recent years. Their current aim is to aid in ending this pandemic by ensuring everyone knows what to do to help themselves and their families stay well.
The Church of Scientology has created its How to Stay Well Prevention Resource Center to prevent the spread of illness and help people keep themselves and others well. For more information, visit Scientology.org/StayWell.​
Source: Church of Scientology International
Share: