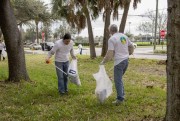 In a coordinated initiative to upgrade the Clearwater, North Greenwood area, community leaders and Scientology volunteers join forces to help tackle crucial issues affecting the neighborhood.
Clearwater, FL, February 26, 2016 (Newswire.com) - ​Dozens of residents came together to clean up streets and lawns in North Greenwood as part of the Adopt Greenwood Project, an initiative launched this week by a team of Clearwater Scientologists from the local The Way to Happiness Foundation and Greenwood community leaders.
This project was based on surveys carried out earlier to determine what local residents most needed and wanted.
Arriving at the Martin Luther King Jr. (MLK) Community Center in North Greenwood to kick off the cleanup, the Scientologists joined volunteers from the MLK Center, the Martin Luther King Jr. Coalition and the City of Clearwater Police Department. All headed off for the heart of Greenwood armed with maps of the cleanup route, gloves, garbage pickers and garbage bags supplied by Keep Pinellas Beautiful.
They hit the streets, energetically filling up 60 bags with garbage in addition to disposing of 20 old tires and 95 cubic feet of palm fronds.
After the cleanup, the crew returned to the Martin Luther King Jr. Community Center for a fish-fry lunch—a fundraiser organized by the Martin Luther King Coalition to benefit the center.
Future cleanups will launch each Saturday morning from the Martin Luther King Jr. Community Center.
The Way to Happiness was written and published by L. Ron Hubbard in 1981 as a nonreligious, common-sense guide to better living. Its purpose is to help arrest the current moral decline in society and restore integrity and trust to humankind. It is available in 112 languages, with some 115 million copies distributed in 186 nations. The campaign to distribute the book, supported by the Church of Scientology, has been embraced by more than 257,000 groups and individuals. The Way to Happiness holds the Guinness World Record as the single most-translated nonreligious book and fills the moral vacuum in an increasingly materialistic society.
Share: