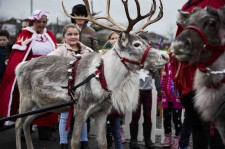 Santa's reindeer arrived at Winter Wonderland last Sunday, December 17, at the Scientology Community Centre in Firhouse.
South Dublin, Ireland, December 21, 2017 (Newswire.com) - On their way to delivering presents all over the world, Santa's reindeer stopped by for a few hours in Firhouse to pull Santa's sleigh.
For more than a century, reindeer have brought a magical touch to Christmas, and this Sunday was no exception. A crowd had gathered in the elves' corner with Mrs. Claus when Santa arrived on a sleigh pulled by the two reindeer. It was a moment of magic with the crowd cheering "Santa! Santa is here!" One little boy exclaimed: "Did you see the reindeer?! They are real!"
More than 700 visitors, adults and children alike, had the opportunity to take photos with Santa on his sleigh and pet the reindeer, participate in face painting, creative craft making with Santa's elves, and Christmas funfair rides.
"We are pleased to contribute to the spirit of the Christmas Season by hosting this Winter Wonderland, open to all", said Diana Stahl, public affairs representative for the Church.
"Admission to Winter Wonderland is free of charge, but in the spirit of Christmas, we invite all visitors to bring new packaged toys or make a donation, all in aid of local charities supporting homeless families".
The success of Winter Wonderland is reflected in the numerous comments by parents who brought their children to see Santa: "I brought my kids to see Santa today and it was such a beautiful experience. The kids loved it. All the staff were so friendly and welcoming and Santa was so patient and took his time. One of my twins told Santa all he wants for Christmas is happiness. I broke down. My boys are sensitive and loving and don't ask for a lot, but today was so special for them, all thanks to you".
"Thank you for making my little boy's dream come true and meeting a real Santa!" said a mom from the neighbourhood.
"I came here yesterday with my grandson and he asked if we can please come again. I think I will be coming here every day until it's all over in January".
More than 2,000 guests have visited Winter Wonderland at the Scientology Community Centre since it opened on 8 December. It will remain open until 7 January, 1-6 p.m. on Saturdays and Sundays and 3-6 p.m. weekdays.
The Church of Scientology and Community Centre in Firhouse was established in 2017 as a hub for local activities and events, in keeping with Scientology Founder L. Ron Hubbard's intention that all Scientology organisations are to serve as a home for the entire community and a meeting ground for cooperative efforts. Working side by side with all denominations and other groups on civic and humanitarian initiatives to strengthen the community, the Church and Community Centre facilities—1,000-seat auditorium, meeting rooms, café and football pitch—are available to community groups and charitable organisations who share the goal of a peaceful and cooperative society. In 1956, L. Ron Hubbard lived in Dublin with offices in Merrion Square where he launched humanitarian initiatives which continue to flourish throughout the world today. "If the weather is cold, the Irish heart is warm. The country and the people could not be improved upon", he wrote.
For inquiries:
Diana Stahl
​Director of Public Affairs
Phone: 01 541 8000
E-mail: diana.stahl@scientology.net
Source: ScientologyNews.org
Share: