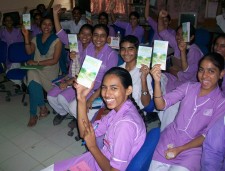 One man's work to uplift the people of his country with The Way to Happiness
New Delhi, India, November 15, 2016 (Newswire.com) - ​​​​​New Delhi businessman Rohit Sharma was deeply troubled by the moral collapse in his country: rape cases doubled between 1990 and 2008 and murders have more than tripled over the last 60 years.
Looking for something he could do to reverse the decline and restore a sense of decency to the people of his country, in 2007 Sharma found The Way to Happiness, a nonreligious commonsense moral code written by Church of Scientology Founder L. Ron Hubbard that lays out 21 fundamental precepts anyone of any faith can use as a road map for a better life.
Sharma found The Way to Happiness had a profound effect on his outlook, and the way he viewed and treated others. This inspired him to see what it could do for others. He delivered his first seminar on the subject, using the award-winning The Way to Happiness book-on-film and public service announcements to 100 students in Vinay Nagar Bengali secondary school.
Much to the surprise and delight of their teachers, the students, listened with rapt attention. Many vowed to adopt these precepts. One student wrote, "I will start living my life on these principles because, after seeing this, I realized that everyone has to follow the rules to become a disciplined person and be successful."
Sharma was soon delivering the lecture in schools across New Delhi and, at an annual teacher's conference, trained some 600 teachers and principals, an event that made headlines in the Hindustan Times. Before long, he had trained more than 2,500 educators who brought The Way to Happiness to more than 110,000 students in some 900 schools.
Sharma next approached the police. After receiving a presentation on the program, the New Delhi Deputy Commissioner ordered 10,000 copies of The Way to Happiness with custom covers bearing the police's logo. The booklets created so much impact, Sharma was asked to bring the workshop to police in every district of the city.
The New Delhi Traffic Division decided to make The Way to Happiness the core of their citywide program to reform drunk drivers and traffic offenders, 55,000 of whom they have put through the program. Many were so pleased with what they learned they thanked the police for the "penalty."
In honor of United Nations International Day of Happiness, The Way to Happiness Foundation and police teamed up to host a massive parade, attended by some 2,500. Launched by a member of Indian Parliament, the parade aired to 60 million viewers on DD1 National TV.
Sharma has trained more than 3,000 police and every branch of Indian law enforcement has now embraced the booklet. He has distributed more than 58,000 booklets across 16 states of India, and has reached more than 70 million people with the booklet's message with the help of national media.
Sharma next plans to travel to each of India's 29 states to introduce the campaign to all schools and police departments in his bid for a better India.
"I have had 100 percent success wherever I have gone with The Way to Happiness," he says.
Immensely popular since its first publication in 1981, some 115 million copies of The Way to Happiness have been distributed in 115 languages in 186 nations and the campaign has been embraced by more than 250,000 individuals and groups.
The Way to Happiness is one of a number of humanitarian programs supported by the Church of Scientology. The Scientology religion was founded by L. Ron Hubbard, and the first Church of Scientology was formed in Los Angeles in 1954. Since then, the religion has expanded to more than 11,000 Churches, Missions and affiliated groups, with millions of members in 167 countries.
Read the article on the Scientology Newsroom.
Source: Church of Scientology International
Share: