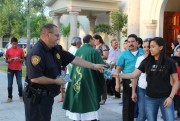 According to a recent study, drug use is down among teens, showing how real change can happen when organizations and community leaders unite to tackle one of society's biggest problems.
Los Angeles, CA, January 21, 2016 (Newswire.com) - ​The year 2015 was a milestone in the fight against the scourge of drug abuse. According to the University of Michigan's Monitoring the Future study, "The use of both alcohol and cigarettes reached their lowest points since the study began in 1975" and "Use of several particularly dangerous illicit drugs—including MDMA (ecstasy, Molly), heroin, amphetamines and synthetic marijuana—also showed adecline this year."
This progress coincides with a massive expansion of the Truth About Drugs drug-education initiative, supported by the Church of Scientology partnering with thousands of drug prevention advocates in law enforcement, businesses, schools and churches.
The DVD helped crash many myths that float around about drugs such as experimenting or taking drugs once won't make you an addict, drugs make all your problems go away and more. After being aware of the horrors of drugs many of my friends have told me that they won't take drugs ever.
In 2015, there was an explosion in the adoption and use of the program. Internationally, volunteers and allied individuals and groups distributed 7 million copies of the Truth About Drugs booklets.
More than 200,000 students attended drug education lectures and workshops based on the Truth About Drugs materials, while more than 1,000 U.S. police and sheriff's departments now use the program in their mentoring and other drug prevention programs. Communities around the world added to the momentum with drug prevention activities including soccer tournaments, marathons, races and bicycle tours.
A few of the many examples of the program's reach:
· In Buffalo, New York, a prominent NASCAR driver displayed the Drug-Free World logo on his fire suit and car, handing out hundreds of copies of the Truth About Drugs booklets at every race.
· The Drug-Free Africa Coordinator from Pretoria, South Africa, was selected as runner-up in the South Africa Men of the Year Awards.
· Volunteers set up stands and held street events and drug-free pledge drives every week in cities around the world.
Scientology Churches made the Truth About Drugs program broadly available to their communities, holding open house events and community forums where law enforcement, educators, civic and faith-based groups and other concerned individuals learned about the campaign.
The Truth About Drugs was adopted in 2015 by two national Scouting organizations and by police and sheriff's departments and ministries of education.
Feedback from drug prevention specialists and students receiving this drug education demonstrate the impact of the program:
· A school counselor who used these materials with her middle school classes said "Students had powerful reactions to the videos and our teachers were able to have in-depth discussions with students using the videos as a starting point."
· A 17-year-old student from India showed her classmates the Truth About Drugs booklet and her biology teacher arranged a screening of the videos for the class. "The DVD helped crash many myths that float around about drugs such as experimenting or taking drugs once won't make you an addict, drugs make all your problems go away and more. After being aware of the horrors of drugs many of my friends have told me that they won't take drugs ever."
· A 15-year-old student from New York stated how his mind was changed by the drug education lecture he attended: "Before I met you, I would say why should one care about those that do drugs? Now I care about those people, I speak to them and educate them about how drugs are a poison and their harmful effects. Your workshops really did impact me. I apply it to my daily life."
· A police officer from Nevada wrote in for booklets so she can reinforce the work she is doing with kids by educating parents and grandparents on these materials.
· A prominent motivational speaker and author has incorporated the program's public service announcements and documentary into his "addiction in the workplace" presentations.
· A National Guard member who is about to retire is planning to make these materials the centerpiece of the drug prevention program he wants to create when complete with his active service.
The first broad-scale drug prevention efforts by the Church and its members began in the mid 1980s with a European grass-roots movement, "Say No to Drugs, Say Yes to Life." At the same time, Scientologists in the United States raised public awareness with the "Lead the Way to a Drug-Free USA" initiative. In the late 1990s, Scientologists in Europe produced a series of youth-oriented booklets with the straight facts about the dangers of drugs. These were in such high demand, the Church undertook to publish them internationally.
Since then, the Church of Scientology has sponsored distribution of millions of booklets, fliers and posters and thousands of drug education activities in communities, schools, churches and workplaces.
Foundation for a Drug-Free World, a secular nonprofit corporation, was formed in 2006 to serve as the primary distributor of the educational materials and to develop new materials to meet the challenge of continually changing drug trends.
The Foundation today oversees the Truth About Drugs campaign and coordinates an international network of volunteers brought together by their common purpose to create a drug-free world.
Share: