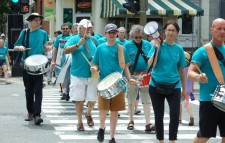 French Canadian Scientologists marched through the streets of Montreal to raise awareness about the dangers of drugs.
Montreal, Canada, August 4, 2017 (Newswire.com) - With an opioid epidemic affecting people in Quebec and throughout Canada, volunteers from the Church of Scientology Quebec and the Church of Scientology Montreal marched through Montreal with bullhorn and drums to raise awareness of the danger of drugs.
In June, the Public Health Agency of Canada reported an estimated 2,458 people died of opioid overdose in 2016. Although the worst areas were in Western Canada—Yukon, Northwest Territories, British Columbia and Alberta—Quebec is not immune to this epidemic.
Quebec's health insurance board (RAMQ) reports seniors are at risk, with prescriptions of methadone, morphine, and Hydromorphone skyrocketing over the past five years. More than 6,318 methadone prescriptions were filled for seniors in 2016, compared to 265 in 2012.
Likewise, Drug Policy Research Network Ontario reported the annual rate of opioid-related deaths in that province has increased 285 percent from 1991 to 2015. And where 65 percent of those deaths were age 24 to 44 in 1991, now nearly half the deaths are those age 45 to 64.
"Long-term use of painkillers can lead to physical dependence," according to the Foundation for a Drug-Free World. "The body adapts to the presence of the substance and if one stops taking the drug abruptly, withdrawal symptoms occur. Or the body could build up a tolerance to the drug, meaning that higher doses have to be taken to achieve the same effects."
The Church of Scientology and its members support the Foundation for a Drug-Free World, whose Truth About Drugs campaign is one of the world's largest nongovernmental drug education and prevention initiatives. Thanks to this support, the Foundation provides—free of charge—drug education booklets, videos and educator guides to teachers, mentors and civic and community leaders.
According to the United Nations Office on Drug Abuse and Illicit Trafficking, "Every dollar spent on prevention can save governments up to ten dollars in later costs."
Read the article on the Scientology Newsroom.
Source: ScientologyNews.org
Share: