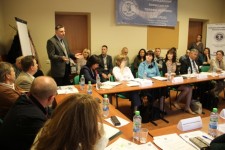 Closed-door conference organized by Citizens Commission on Human Rights St. Petersburg, Russia, reveals psychiatric fraud and flagrant violations of human rights.
St. Petersburg, Russia, June 3, 2016 (Newswire.com) - Citizens Commission on Human Rights (CCHR) St. Petersburg held a closed-door conference where panelists and victims of psychiatry presented facts, figures and personal testimony of human rights violations and fraud in the psychiatric industry.
Specific cases of citizen complaints including extortion and abuse by psychiatrists and psychiatric institution employees were reviewed.
Attending the conference were victims who spoke of the abuse they suffered at the hands of psychiatry. One was a man who objected to the room being too dark when he was trying to take an examination to extend his driver's license. He was removed from the room and falsely labeled schizophrenic. He is appealing to the courts to have that label lifted.
Another case was an elderly woman who was forcibly committed to a psychiatric hospital and administered psychiatric drugs. She testified about the serious physical harm she suffered as a result of these drugs, which triggered intense pain and joint degeneration.
A study of records of the Oktyabrsky district court from 2012 to 2014 showed blatant psychiatric violation of medical ethics and human rights. Psychiatrists spent an average of 10 minutes in examining each of the 1,340 cases they involuntary committed during those two years. In 115 of these cases the examination was conducted in less than a minute. Additionally, those examined were not read their rights.
CCHR organized this conference to inform citizens, supervisors and human rights advocates of the flagrant violations extant in the psychiatric industry today and the urgent need to bring psychiatry under the law.
Every year, hundreds of victims turn to CCHR Russia to report abuses and psychiatric crimes including false imprisonment, fraud, rape, inhumane treatment, appalling conditions in psychiatric institutions and the deprivation of fundamental human rights. For the past 15 years, CCHR Russia has been investigating and exposing human rights violations in the field of mental health and coming to the aid of psychiatric victims.
Citizens Commission on Human Rights is a nonprofit charitable mental health watchdog co-founded in 1969 by the Church of Scientology and professor of psychiatry emeritus, the late Dr. Thomas Szasz. It is dedicated to eradicating psychiatric abuses and ensuring patient protection.
Source: ScientologyNews.org
Share: