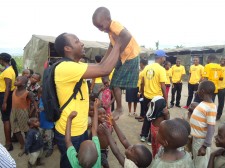 Burundi physician establishes 50-member Scientology Volunteer Ministers Group to bring real help to the people of his country.
Bujumbura, Burundi, May 11, 2016 (Newswire.com) - A doctor at Kamenge Hospital in Bujumbura, Burundi, has formed a Scientology Volunteer Ministers group as part of his commitment to improving conditions in his country.
While still in college, Dr. Jacques Mpawenimana and his friend Jean Pierre Hakizimana formed the nonprofit Health for All, with the goal of funding rural health centers and helping to integrate orphans into mainstream society.
One recent week, they visited a displacement camp in Carama, in northern Bujumbura, where 850 live in privation, with little food, clothing or medical care. The Burundi volunteers delivered clothes, salt and soap to those living in the camp along with treats for the children.
African Child Policy Forum estimates there are 740,000 orphans in the country. And Burundi ranks 167th out of 177 countries in the United Nations Human Development Index. The country's civil war is blamed for the poverty rate plummeting from 48 down to 67 percent between 1994 and 2006. And once again, political and ethnic conflict has plunged the country into turmoil with hundreds of thousands fleeing and seeking refuge in neighboring countries.
So, when Mpawenimana heard about the Scientology Volunteer Ministers program earlier this year, it resonated with him immediately. Here was technology he could learn, use and share with others to begin to reverse Burundi's overwhelming problems.
By mid-March, He and Hakizimana completed the entire series of 19 free on-line courses offered on the Volunteer Ministers website. And he put what he learned to immediate use. While studying The Answers to Drugs Course, for example, Mpawenimana withdrew two young addicts from drugs.
One of the courses is called Assists for Illnesses and Injuries. Assists are techniques developed by Scientology Founder L. Ron Hubbard that are based on his discoveries into the mind and the spirit. They speed healing by bringing the being into better communication with the body. Mpawenimana trained 23 members of Health for All to deliver these techniques.
Many members of Health for All have also enrolled on the on-line courses and have now become Scientology Volunteer Ministers.
On completing the Integrity and Honesty Course, another group member, Eric Barakamfitiye, who has completed the entire series of courses, said, "I have personally changed completely from the useful knowledge I gained from this course. I'm not the person I was before. When I now look in the mirror, my face is brighter and happier."
Soon the new Volunteer Ministers group had swelled to 50 new members, all of them training on this technology to use it to improve the lives of the people of this country.
Whether serving in their communities or on the other side of the world, the motto of the Scientology Volunteer Minister is "Something can be done about it." The program, created in the mid 1970s by L. Ron Hubbard and sponsored by the Church of Scientology International as a religious social service, constitutes one of the world's largest international independent relief forces.
The Volunteer Minister "helps his fellow man on a volunteer basis by restoring purpose, truth and spiritual values to the lives of others."
A global network of Volunteer Ministers mobilizes in times of manmade and natural disasters, answering the call wherever needed. Collaborating with some 1,000 organizations and agencies, they have utilized their skill and experience in providing physical support and spiritual aid at hundreds of disaster sites.
Source: ScientologyNews.org
Share: