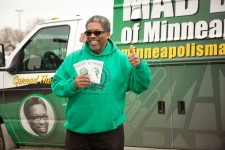 National MAD DADS President, and founder and President of the Minneapolis chapter, V.J. Smith is reclaiming the neighborhoods of Minneapolis with the help of The Way to Happiness
MINNEAPOLIS, February 14, 2018 (Newswire.com) - V.J. Smith is on a mission to get men to stand up and take the community back from drugs and crime. He has been described as "a turnaround specialist" — he turned his own life around and now specializes in helping the youth of the community do the same.
MAD DADS stands for Men Against Destruction, Defending Against Drugs and Social Disorder, a nonprofit founded in 1989 in Omaha, Nebraska, by men and fathers who were fed up with gang violence and illegal drugs in their community. Smith is national MAD DADS president and founder and president of the group's Minneapolis chapter.
Happiness is really about something deep inside you and once you understand how that operates, you can be a happier person.

V.J. Smith, National MAD DADS President and Founder and President of Minneapolis MAD DADS
"We want to be that conduit of men making a difference in the jails, in the schools, on the streets, in the churches and all around the community to help transform our families and our fathers," he says.
He leads his volunteers out onto the streets at night to bring wise counsel and a listening ear to young men and women who have never experienced a relationship with a real caring adult.
And one of the tools he uses is The Way to Happiness, the common-sense moral code written by author and humanitarian L. Ron Hubbard. He was introduced to the booklet by members of the Church of Scientology of Twin Cities who work with him on his drug education and prevention activities.
Smith had a custom edition of The Way to Happiness made with the MAD DADS logo on the cover. What he loves about handing the booklet to someone is the difference he knows it can make in their lives. "Just a little bit of information will take a person a long way and help them to have a better quality of life," he says. "We hear people say, 'You know I read that book and it changes the way I think about life. It changes how I feel about things.'"
Smith talks about people who really don't understand what happiness is. "Happiness is not about how much money you have," he says. "It's not about what kind of car you drive. Happiness is not about what kind of house you live in or any of that. Happiness is really about something deep inside you and once you understand how that operates, you can be a happier person."
He describes his purpose as reaching "the least, the last and the lost" — people who are overlooked and often taken advantage of. "Our goal is to help those individuals to be better, to understand what it is like to have a fulfilled life. Understand that, yes, there are challenges but you have the power, you have the power within you to conquer those challenges and come out a winner. We just have to show you how to do it — give you the tools to do it, give you the support to be strong."
The Way to Happiness was written in 1981. Immensely popular since its first publication, it has been embraced by more than 250,000 groups and individuals, with some 115 million copies distributed in 115 languages in 186 nations. It holds the Guinness World Record as the single most-translated nonreligious book and fills the moral vacuum in an increasingly materialistic society.
The Church of Scientology and its members are proud to share the tools for happier living contained in The Way to Happiness.
Source: ScientologyNews.org
Share: