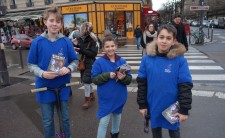 Young volunteers from the Paris chapter of Youth for Human Rights take to the streets to raise awareness of the 30 rights all humanity shares. Adopted by the United Nations in 1948 in Paris, this year is the 70th anniversary of the Universal Declaration of Human Rights.
PARIS, February 5, 2018 (Newswire.com) - A team of young human rights advocates from the Church of Scientology Paris is bringing a "new" subject to the attention of Parisians and visitors to the City of Lights. They look upon it as new because so many people they approach can only name two or three of the 30 rights enshrined in the Universal Declaration of Human Rights.
The youngsters are members of the Paris chapter of Youth for Human Rights, and they consider it their group's responsibility to share this information because it was in Paris that the UDHR was adopted by the fledgling United Nations on Dec. 10, 1948.
While Eleanor Roosevelt, an American, was the first person to chair the UN Commission on Human Rights and she oversaw the drafting of the Universal Declaration of Human Rights, her vice-chairman, French law professor and judge René Cassin, is credited with being the one most responsible for drafting the document, for which he received the Nobel Peace Prize in 1968.
The Parisian youths present people with copies of What Are Human Rights? - a simple, illustrated booklet that allows people of all ages to understand the core meaning of each of the rights of the UDHR. The Youth for Human Rights educational curriculum also includes 30 public service announcements, one for each right, and The Story of Human Rights documentary covering the history of human rights and their status in the world today.
The Church of Scientology and Scientologists support United for Human Rights, and its program for young people, Youth for Human Rights, the world's largest nongovernmental human rights education campaign, reaching out in 195 countries in 27 languages and embraced by 2,300 activists, officials, groups and organizations. The initiative is inspired by humanitarian and Scientology founder L. Ron Hubbard's conviction that "It is vital that all thinking men urge upon their governments sweeping reforms in the field of human rights."
For more information, visit the Scientology website.
Source: ScientologyNews.org
Share: