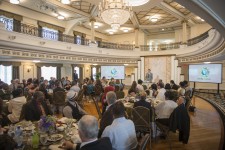 Bimonthly Charity Coalition luncheon brings the community together in the name of help
CLEARWATER, Fla., February 28, 2018 (Newswire.com) - Some 100 guests from 37 charitable organizations attended the Tampa Bay Charity Coalition luncheon Feb. 21, hosted by the Church of Scientology in the Fort Harrison Ballroom. The first bimonthly Charity Coalition meeting of 2018 gave guests the opportunity to extend the reach of their programs by networking with other nonprofits while enjoying a buffet lunch prepared by the Fort Harrison's five-star chefs.
Dylan Pires, community affairs director for the Church of Scientology Flag Service Organization, began by inviting guests to introduce themselves and the nonprofit they represent. He stressed the importance of working together to make a better community and offered the services of the Church of Scientology Flag Service Organization to help them in their endeavors. He also informed them about the humanitarian programs the church supports and invited them to take advantage of their resources. He announced that the church will hold its annual Volunteer Recognition Dinner in April, where the Charity Coalition will acknowledge deserving staff from the many charitable organizations in the Tampa Bay area.
The opportunity to meet and coordinate actions is one of the most popular features of the bimonthly luncheons. "When we get everyone together with the same purpose under one roof it makes things so much easier," said Margaret DeBellotte-Torres, a job coach and mental wellness advocate who attended this month's event.
Each Charity Coalition luncheon features a different nonprofit. The February meeting spotlighted Pinellas County Foster and Adoptive Parents Association (PCFAPA). Janine Lewis, PCFAPA president, briefed those attending on the group's programs to support foster parents in Pinellas County.
The Scientology religion was founded by L. Ron Hubbard. The first Church of Scientology was formed in the United States in 1954 and the religion has expanded to more than 11,000 churches, missions and affiliated groups, with millions of members in 167 nations.
The Church of Scientology supports a wide array of humanitarian programs and community events, inspired by Mr. Hubbard's words: "A community that pulls together can make a better society for all."
To learn more, visit www.scientology-fso.org.
Source: ScientologyNews.org
Share: