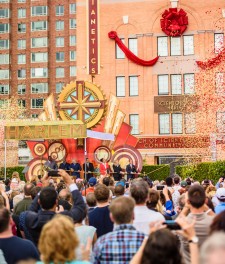 New Church of Scientology and Community Center of Harlem opened Sunday, July 31, in America's spiritual center of African-American and Caribbean life.
Harlem, New York, August 3, 2016 (Newswire.com) - ​​Harlem runs deep into the soul of America. And on Sunday, July 31, the Church of Scientology opened a new Ideal Church and Community Center on Manhattan's famed 125th Street in the heart of the neighborhood.
"There is nowhere else like Harlem," said Mr. David Miscavige, Chairman of the Board Religious Technology Center and ecclesiastical leader of the religion. "Your renaissance poets, your playwrights, your painters, your authors and musicians—even a mere recitation of the names is humbling: Duke Ellington, Cab Calloway, Billie Holiday, Claude McKay and Louis Armstrong. What else need one say except: 'Excise Harlem from American history and everything turns lukewarm.'"
"This new Community Center represents not just an offer to help, but rather our obligation and right to help. Because no matter what makes each of us individuals, we all represent the brotherhood of man. And so there is no escaping the fact that anyone's suffering is also our suffering. And that none of us are free unless all of us are free. When you track that to the end of the blackboard, it becomes no less than our inviolate duty to introduce humanity to every last living soul. And thereby keep faith with the family of Man."
City and state dignitaries joined thousands of Scientologists and guests welcoming the new facility: New York State Assemblyman Robert Rodriguez; Rev. Johnny Ray Youngblood, Senior Pastor Mt. Pisgah Baptist Church; Rev. Joseph Jones, Human Rights Ambassador and New York's 70th Precinct Clergy Council Member; and Mr. Raphael Benavides, President, East Harlem Merchants Association.
"I believe that by simply opening your doors you are going to be giving an opportunity to this community, opportunity for progression," said Assemblyman Rodriguez. "And when you add the potential for tutoring options to strengthen our youth, lectures and workshops for life skills, courses on basics of living or even just a friendly word of advice, this center can be a center of hope on 125th Street."
Through Mr. Miscavige's leadership, in past decade the Church has opened more than 50 Ideal Churches—from Los Angeles to London, Milan to Tokyo and Budapest to Kaohsiung, driving worldwide expansion for the religion to a rate surpassing the previous 50 years combined.
Read the article on ScientologyNews.org.
Source: ScientologyNews.org
Share: