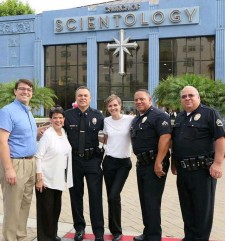 Church of Scientology Los Angeles hosts National Night Out
Los Angeles, California, August 9, 2017 (Newswire.com) - ​East Hollywood was bustling with activity August 1 with hundreds of residents celebrating National Night Out, described on its website as "an annual community-building campaign that promotes police-community partnerships and neighborhood camaraderie to make our neighborhoods safer, more caring places to live."
Hosted by the Church of Scientology Los Angeles, there were plenty of fun activities for kids and families and information booths for social betterment programs and resources.
For the kids, there was a water slide, swimming pool and bouncy house, arts and crafts, balloon sculpture, face painting, and visits from some of Hollywood's most famous superheroes. There was also popcorn and cotton candy and professional magician Stan Gerson, who thrilled young and old with his magic show.
Big Daddy T band performed blues and rock, keeping the party in high spirits for the entire evening.
Residents could also access vital information to help rid East Hollywood of drugs and crime: The Foundation for a Drug-Free World and Strike Out Against Drugs distributed drug education pamphlets and information for kids, and The Way to Happiness Foundation handed out their signature booklet, a nonreligious common-sense guide to better living. A field representative from the office of the L.A. County Board of Supervisors set up an information booth for local residents on the many resources available to the community.
Captain Art Sandoval and officers from the Northeast LAPD Division visited the celebration, giving local families the chance get to know them at a family-friendly celebration, rather than during more difficult circumstances.
Kelley Pomerantz, president of the Los Angeles chapter of The Way to Happiness Foundation, presented an acknowledgment to Captain Sandoval for his work to make the neighborhood safe.
"This annual event is one of the many times each year when we work to bring our community together to create a better neighborhood," said Betsy Davis of the Church of Scientology Los Angeles. "We have formed a partnership with our police department, local retailers, neighborhood families and the many hospitals nearby. We want to help create effective change now and for the future."
For more information on upcoming community events contact the Public Relations Director of the Church of Scientology Los Angele, (323) 953-3200.
Source: ScientologyNews.org
Share: