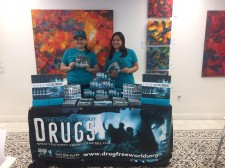 In celebration of Health Month of the Americas (Mes de la Salud de las Américas) the Church of Scientology Miami joined forces with Latin American consulates this week to raise awareness of the dangers of drugs.
Miami, Florida, October 18, 2017 (Newswire.com) - Drug abuse knows no borders. And the destruction it causes to individuals, families, even cultures, knows no bounds.
Dedicated to providing youth with the tools they need to make sane decisions about their own future on this very important issue, for more than three decades the Church of Scientology and Scientologists have been advocates and activists in the field of drug prevention.
In Miami, a vibrant hub of Latin culture, the Church of Scientology not only reaches out to the youth of the city, it also reaches beyond its borders to countries in Latin America with the Truth About Drugs campaign, the drug education and prevention initiative the Church supports.
This week, in celebration of Health Month of the Americas (Mes de la Salud de las Américas), Church volunteers brought the program to two Latin American consulates. They set up a booth and distributed hundreds of drug education booklets in each to consulate employees and members of the Miami Uruguayan and Colombian communities. At the Colombian consulate, they also presented two drug education lectures to Colombian nationals the consulate invited to attend.
The United Nations Office on Drugs and Crime describes the aim of drug prevention as: "the healthy and safe development of children and youth to realize their talents and potential and become contributing members of their community and society. Effective drug prevention contributes significantly to the positive engagement of children, young people and adults with their families, schools, workplace and community."
"The Truth About Drugs materials of the Foundation for a Drug-Free World accomplishes this purpose," says Diana Pedroni, Public Affairs Director of the Church. "The booklets and videos don't preach—they present the facts—and kids take notice because of the way it is presented. The Truth About Drugs gives young people the chance to make their own decisions on this very important subject."
The Foundation for a Drug-Free World (FDFW) is a secular nonprofit corporation that empowers youth and adults with factual information about drugs so they can make informed decisions to live drug-free. The Church of Scientology and its members support the Foundation for a Drug-Free World, whose Truth About Drugs campaign is one of the world's largest nongovernmental drug education and prevention initiatives. Thanks to this support, the Foundation provides—free of charge—drug education booklets, videos and educator guides to teachers, mentors and civic and community leaders.
According to the United Nations Office on Drug Abuse and Illicit Trafficking, "Every dollar spent on prevention can save governments up to ten dollars in later costs."
Source: ScientologyNews.org
Share: