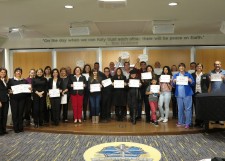 Acknowledged for their stellar work in 2017, volunteers at the Church of Scientology Miami redouble their efforts for 2018.
Miami, Florida, January 11, 2018 (Newswire.com) - The Church of Scientology Miami launched 2018 by recognizing the community spirit and hard work of volunteers active in humanitarian initiatives the Church supports.
The program began with the Director of Public Affairs recognizing volunteers with certificates of appreciation. She followed this with a PowerPoint presentation on the scope of the Church's community work in 2017—greatly accelerated since the opening of the new Ideal Church of Scientology of Miami in April. The new facility has made it possible to substantially increase their service to the community because it has ample space to serve as a meeting ground of cooperative effort, coordination and delivery of community outreach programs.
Several months after the opening, the commitment of the volunteers was put to the test when Hurricane Irma struck Miami September 10. The Church, which was designated as a Disaster Relief Resource Center, immediately began collecting and organizing donations of food, water, and emergency supplies and provided a safe place for some 200 neighbors to store their cars in the Church parking structure. Scientologists provided relief to evacuees in the North Miami Middle School hurricane shelter, prepared and served more than 1,000 hot meals to patients at a North Shore Medical Center senior care unit, elderly residents at five northeast Miami apartment buildings, and at a home for abused children awaiting foster care or adoption. Volunteers have also been active in drug education and prevention and the human rights initiative the Church supports.
Those attending were then briefed on planned activities for 2018 including a series of open house events to connect community leaders with effective solutions to pressing social needs.
The Church supports campaigns designed to help the community tackle urgent issues including drug abuse, crime, immorality, illiteracy and human rights violations. Volunteers also provide one-on-one help through the Scientology Volunteer Ministers program.
Inspired by the words of humanitarian and Scientology Founder L. Ron Hubbard that "a being is only as valuable as he can serve others," the volunteers set personal goals for greatly expanded service over the coming year.
Source: ScientologyNews.org
Share: