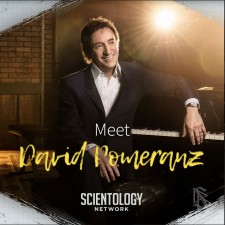 LOS ANGELES, March 16, 2020 (Newswire.com) - ​Scientology Network's MEET A SCIENTOLOGIST, the weekly series spotlighting the everyday lives of Scientologists from around the world and all walks of life, announces an episode featuring multi-platinum singer-songwriter David Pomeranz.
MEET A SCIENTOLOGIST airs Tuesdays at 8 p.m. ET/PT on Scientology Network.
David Pomeranz's songwriting and recording projects have generated 22 Platinum and 18 Gold albums and sold over 40 million copies internationally—making him one of America's most successful singer-songwriters. Beyond the recording studio, Broadway stage and writing songs for artists such as Barry Manilow, Missy Elliott, Freddie Mercury, Isaac Hayes and Bette Midler, David also created a song that may have helped thaw the Cold War in the 1980s.
ABOUT DAVID POMERANZ
Hailed by Billboard Magazine as being "…one of our finer voices," Long Island-born David Pomeranz knew by the age of five that he was destined to become a performer and songwriter. Inspired by a first viewing of West Side Story, he taught himself to play the piano, guitar and drums, and by the age of 19 signed a multi-album recording contract with Decca Records. Not long after, when Barry Manilow chose to record a Pomeranz composition, "Tryin' to Get the Feeling Again," David's songwriting career raced to the top of the charts.
In the 1980s, at the height of the Cold War, David broke all social and political barriers by teaming up with Russian superstar Sasha Malinin. The duo made musical history with their recording of David's song "Faraway Lands"—a song which may have helped thaw the East/West divide. Along with David's accomplishments in pop music, the Emmy- and Tony-nominated artist has written music and lyrics for countless television productions, musicals presented in New York and London's West End, as well as major motion pictures, including Big, starring Tom Hanks.
The Scientology Network debuted on March 12, 2018. Since launching, the Scientology Network has been viewed in 240 countries and territories worldwide in 17 languages. Satisfying the curiosity of people about Scientology, the network takes viewers across six continents, spotlighting the everyday lives of Scientologists, showing the Church as a global organization and presenting its social betterment programs that have touched the lives of millions worldwide. The network also showcases documentaries by Independent filmmakers who represent a cross-section of cultures and faiths but share a common purpose of uplifting communities.
Broadcast from Scientology Media Productions, the Church's global media center in Los Angeles, the Scientology Network can be streamed at scientology.tv and is available through satellite television, mobile apps and via the Roku, Amazon Fire and Apple TV platforms.
CONTACT:
Media Relations
(323) 960-3500
mediarelations@churchofscientology.net
Source: Scientology Network
Share: