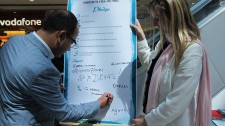 Launching a drug-free summer in style.
London, England, June 29, 2016 (Newswire.com) - London city councillors are setting an example for their constituents this summer by taking a stand against drug abuse. Working with the Foundation for a Drug-Free World, they launched a local drug prevention initiative. And they launched it with flair.
UK's top jive and swing band—Britain's Got Talent semifinalists the Jive Aces—set the mood with their hot jive music. But while it was a fun-filled, lively afternoon, the band, the councillors and the Church of Scientology of London volunteers who organized the rally had a serious purpose in mind.
A 2014 national drug survey found more than 15 million Britons, nearly one in three of the adult population, have taken illegal drugs, and 13 percent of drug users believe they have had a drug problem, the equivalent of approximately 2 million people. And, as these city councillors know all too well, with drugs come crime and degradation, assault, theft, prostitution and even death—in fact, 3,346 drug-related deaths in England and Wales in 2014.
One of the councillors invited the volunteers to join her in handing out copies of The Truth About Drug booklets in one of her rough neighborhoods and for their help in surveying residents on what they want to do to improve the community.
Future events were planned for this summer to bring the campaign to neighborhoods throughout London.
Scientologists on six continents work in their communities throughout the year to empower others with the truth about drugs. The Church and its members are dedicated to eradicating Drug abuse through education.
Source: ScientologyNews.org
Share: