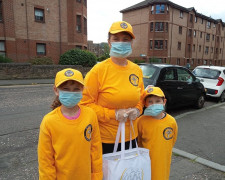 As in communities the world over, COVID-19 has brought its share of hardship to Scotland
EDINBURGH, Scotland, January 27, 2021 (Newswire.com) - While encouraging friends, neighbors and local merchants to help bring the pandemic under control by complying with protocols, Volunteer Ministers from the Edinburgh Scientology Church, the Hubbard Academy of Personal Independence (HAPI), help brighten the days of those isolated by the lockdown.
Since May, Edinburgh VMs have been carrying out an initiative — part of an international Volunteer Ministers program. They have handed out more than 9,000 copies of educational booklets in Edinburgh to help people understand how to protect themselves and others from infection.
They have also been working with local charities to help isolated and vulnerable neighbors. "As a team, we've helped food banks with items they most need and want," posted one of the Volunteer Ministers on the HAPI Facebook page.
As soon as the pandemic began, the most effective measures were researched for ensuring the safety of Scientology staff and parishioners, and these were implemented internationally as protocols and made broadly available in 21 languages for anyone to use at the Scientology.org How to Stay Well Prevention Resource Center.
Edinburgh Volunteer Ministers have presented copies of these booklets to shops, restaurants and neighbors so they can help keep themselves and their friends and families well.
For the holidays, they "answered a shoutout for help from a homeless charity and provided donations to seven Edinburgh care homes and a women's shelter we've helped several times."
They knew the holidays tend to heighten the sense of isolation for those down on their luck. And pandemic restrictions prevented care home residents from visiting with children and grandchildren.
So to make the season special, they sent gifts to care home and shelter residents.
It looks like they created the intended result.
"Here's a message from the women's shelter," they posted on their Facebook.
"Omg!!!! You guys are unreal!!! Honestly can't believe it! All the staff & girls were absolutely blown away with your Christmas gifts, you literally made their day! You are absolute superstars."
What the Volunteer Ministers took away from the experience was the confirmation that kindness is a beautiful thing. And just as their actions brought comfort to those who received their gifts, it brightened the days of the givers.
The Church of Scientology Volunteer Ministers program is a religious social service created in the mid-1970s by Scientology founder L. Ron Hubbard. It constitutes one of the world's largest independent relief forces.
CONTACT:
mediarelations@churchofscientology.net
(323) 960-3500 phone
(323) 960-3508 fax
Source: Church of Scientology International
Share: