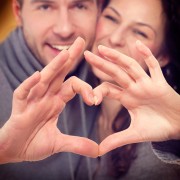 With a third of first marriages ending in divorce or separation after 10 years in the United States, the Church of Scientology offers tools to improve relationships and salvage marriages.
Los Angeles, CA, February 14, 2016 (Newswire.com) - This Valentine's Day the Church of Scientology offers help to couples wishing to keep their relationships alive and thriving year round with the Marriage Course— free training to learn tools that can help any marriage.
According to the Centers of Disease Control and Prevention, the likelihood of a first marriage ending in separation or divorce within five years is 20 percent and 33 percent after 10 years.
The Marriage Course helps the individual learn:
· Whether a person is right for them—before beginning the relationship.
· What one factor causes couples to grow apart and lies behind many failed marriages.
· How to reverse damage by restoring communication when things have gone wrong.
The Marriage Course is one of 19 courses available through the Scientology website, including one designed to improve communication skills, another specifically aimed at resolving conflicts and a third that teaches a simple technique anyone can use to increase understanding.
The courses are available at http://www.scientology.org/courses.html.
Share: