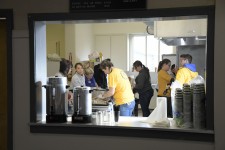 For Scientology Volunteer Ministers responding to the California fires, this was a very different and special Thanksgiving.
GRIDLEY, Calif., November 25, 2018 (Newswire.com) - In the town of Gridley just south of Chico, California, Amanda, a woman who lost three family members in last August's Carr Fire, wanted to pay forward the kindness she received when she was in need. It was Amanda's wish to provide Thanksgiving dinner for people affected by the Camp Fire — the worst fire in California history. Scientology Volunteer Ministers, members of local Christian churches, the Sikh community, veterans groups and the nonprofit World Central Kitchen helped her make this a very special Thanksgiving for Camp Fire evacuees.
They helped prepare and serve Thanksgiving dinner to hundreds gathered at the Veterans Memorial Building in Gridley and distributed hundreds more to families living in temporary shelters throughout the area.
A Scientology Volunteer Minister who had to evacuate because of the Woolsey Fire in Southern California flew up for the day to entertain those attending the dinner. A musical group from the Slavic community drove up from Sacramento to perform as well.
In the back of the hall, Scientology Volunteer Ministers set up a tent where they provided information to evacuees on all local and federal services available to them such as food, clothing, hygiene supplies, laundry services and FEMA programs. (FEMA has grants for temporary housing and home repairs and low-cost loans to cover uninsured property losses.) They also provided Scientology assists — Scientology techniques that address the emotional and spiritual factors in stress and trauma.
In Southern California, other teams of Volunteer Ministers joined members of the Emmanuel Presbyterian Church and the Salvation Army to prepare and serve Thanksgiving dinner to families displaced by the Woolsey fire and then spent the following day helping families search through destroyed homes for any possessions that survived the fire.
VMs are still needed to help people recover from the worst fires in California history, says the Scientology Volunteer Ministers Disaster Response Coordinator. Anyone trained as a Volunteer Minister should contact their Scientology church or VM headquarters at (800) help4yu.
CONTACT:
Church of Scientology Media Relations
mediarelations@churchofscientology.net
(323) 960-3500
Source: ScientologyNews.org
Share: