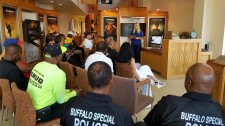 Local peace groups and community leaders joined Youth for Human Rights International Buffalo chapter for an International Day of Peace open house and jazz concert at the Church of Scientology Buffalo.
BUFFALO, October 3, 2017 (Newswire.com) - ​​​​​In honor of International Peace Day Sept. 21, peace groups gathered at the Church of Scientology Buffalo for a special briefing from Youth for Human Rights Buffalo chapter Director Isabelle Vladoiu, who represented the U.S. as a Youth Ambassador at the 14th International Human Rights Summit at the United Nations.
In celebration of the day, the event brought together members of Buffalo peace groups: Buffalo Special Police, Buffalo Peacemakers, Lifesavers, Stop the Violence Coalition, SNUG (Should Never Use Guns), Back To Basics Ministry Outreach and the Witness Project. Attending were guests of many diverse cultures and ethnicities that call Buffalo home.
Ms. Vladoiu presented a slideshow of the speech she delivered at the United Nations, where she was asked to share her chapter's work partnering with local community peace organizations to serve as a model for how youth groups worldwide can dissemination human rights. Contained in the slideshow were photos of dozens of community outreach events the leaders and organizations attending the International Peace Day event participated in over the past year. Ms. Vladoiu concluded, saying Youth for Human Rights Buffalo intends to expand the program and that youth attending should strive to participate as delegates from Buffalo at next year's Human Rights Summit at the United Nations.
The Buffalo event was included on the International Day of Peace "world peace map" at http://internationaldayofpeace.org/event-map
Pastor Giles of Back To Basics Ministry Outreach addressed the youth on the importance of knowing and standing up for one's human rights, giving the example of young Nobel Laureate Malala Yousafzai who received the medal for her advocacy of the right of girls' to have an education.
Guests then posed for a group photo, each holding a poster depicting one of the 30 articles of the U.N. Universal Declaration of Human Rights, which was posted on social media at #joinTogether, the U.N.'s official hashtag for this year's Peace Day. This enabled the whole world to see what is happening in Buffalo.
The event concluded with a 3-hour jazz concert featuring three renowned performers: Janice Mitchell, Buffalo N.Y. vocalist who performed on five Ray Charles world tours as a "Raylette" and as a backup vocalist for Stevie Wonder; Jim Beishline, whose superb style, arrangements and piano performances earned him Top Jazz Group in the Buffalo Music Awards 2000; and Sal Andolina, Buffalo Philharmonic bass clarinetist and saxophonist, who has been featured on more than a dozen studio recordings including his album Like Benny to Me: A Tribute to Benny Goodman.
The purpose of Youth for Human Rights is to inspire youth to become advocates for tolerance and peace through education on the United Nations Universal Declaration of Human Rights. It has grown to a global movement, including hundreds of groups and chapters. The Buffalo chapter educates people across Western New York on their basic rights.
The Church of Scientology and Scientologists support United for Human Rights and Youth for Human Rights, whose award-winning educational materials are translated into 27 languages, bringing the message of human rights to 195 nations. Their actions are inspired by the principles expressed by Scientology Founder L. Ron Hubbard: "It is vital that all thinking men urge upon their governments sweeping reforms in the field of human rights."
For more information about materials or participation in the Youth for Human Rights Buffalo chapter, visit youthforhumanrights-buffalo.org.
Source: ScientologyNews.org
Share: