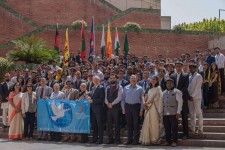 Fifth annual Youth for Human Rights South Asia Summit served as the first stage of the annual Youth for Human Rights World Educational Tour and brought together concerned human rights advocates from throughout the region.
Delhi, India, March 30, 2017 (Newswire.com) - Some 200 human rights advocates gathered at the India Habitat Centre in Delhi, March 22, for the 5th annual South Asia Human Rights Summit of Youth for Human Rights International. The group, which seeks full implementation of the U.N. Universal Declaration of Human Rights (UDHR), emphasizes education as the key to accomplishing reform.
The Summit, held in Lucknow and Nepal in previous years, also marked the launch of the 14th annual Youth for Human Rights International (YHRI).
Special guests included Founder and President of Youth for Human Rights International, Dr. Mary Shuttleworth; YHRI South Asia President Andrew Chalmers, retired judge and Chief Secretary to the President of India's National Human Rights Commission, C.K. Chaturvedi; State Coordinator of Police Research, Training and Policy and Superintendent of Madhya Pradesh State Police Academy, Vineet Kapoor; and Indian humanitarian and founder of Earth Saviours Foundation, Ravi Kalra.
Also attending were delegates, volunteers, partners and friends from across India, Nepal and Bangladesh.
The Summit began March 22 with a conference in which youth delegates shared the results of their human rights activities over the past year. Their enthusiasm and passion was contagious, with young and old alike inspired to redouble their work to bring about peace and tolerance through human rights education.
The following day, a standing room only crowd filled the conference room at the International Youth Hostel in Delhi. They learned how training on the Youth for Human Rights educational materials has caused a major shift in police attitudes and interaction with the community.
Day three was a planning session, with key YHRI volunteers from academia, law, media, IT and business set goals and targets for the coming year to greatly expand YHRI as a national movement in India and across South Asia.
Youth for Human Rights is one of the many humanitarian and social betterment initiatives supported by the Church of Scientology and Scientologists in alignment with the vision of Scientology Founder L. Ron Hubbard who stated, "It is vital that all thinking men urge upon their governments sweeping reforms in the field of human rights."
Source: Youth for Human Rights
Share: