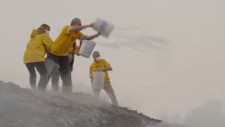 Los Angeles and Ventura County Volunteer Ministers respond to one of the worst California fire seasons on record
LOS ANGELES, December 10, 2017 (Newswire.com) - The beginning of December ushered in more than just the holiday season this year. With extreme dry winds, wildfire season has exploded in flame. Multiple fires blazed through the region including the Thomas Fire in Ventura County, the Creek Fire north of Sylmar and two more in North San Diego County.
Firemen and first responders worked around the clock to hold back the fires and allow residents time to evacuate to safety. Through their hard work, no lives have been lost and residents are now being allowed back into their neighborhoods to assess damage and start cleaning up.
The Scientology Volunteer Ministers have been on the ground since day one, assisting with relief efforts. They brought food, water and hygiene supplies to evacuation shelters to keep displaced families as comfortable as possible while they waited to return home.
Hundreds of horses were evacuated too, and although there was plenty of donated feed and supplies for them, at one shelter, those caring for them were subsisting on stale bagels and cream cheese. Volunteer Ministers found out and ordered and brought them hot meals.
In Ojai and other parts of Ventura County, Volunteer Ministers hosed down buildings and put out spot fires, preventing blowing embers from spreading the fire to undamaged buildings.
Other Volunteer Ministers who live in evacuation zones assisted neighbors to get out safely, and are helping with the cleanups as they return home.
The motto of the Scientology Volunteer Minister is "Something can be done about it." The program, created in the mid 1970s by L. Ron Hubbard and sponsored by the Church of Scientology International as a religious social service, constitutes one of the world's largest international independent relief forces.
Source: Scientology Los Angeles
Share: