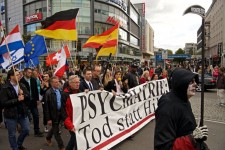 An international contingent of Citizens Commission on Human Rights members marched through the streets of Berlin bearing signs stating "Psychiatry Kills" and demanding an end to the wholesale drugging of children and other forms of psychiatric abuse.
BERLIN, November 2, 2017 (Newswire.com) - The streets of Berlin reverberated with the voices of hundreds of protestors chanting "WPA, WPA, how many kids have you drugged today" as they marched on the Messe Berlin Trade Fair Center for the 17th World Congress of the World Psychiatric Association.
The congress took place only days after it came to light that Stephen Paddock, the lone gunman who opened fire on a Las Vegas music festival, killing 58 and injuring more than 500, had recently been prescribed a psychiatric anti-anxiety medication that can amplify aggression.
CCHR Germany volunteers were joined in the demonstration by an international corps of representatives of CCHR chapters from Switzerland, Italy, Belgium, Czech Republic, Austria, Denmark, and as far away as the USA and Japan.
Converging on the square in front of Berlin's Kaiser-Wilhelm Memorial Church, protestors carried the flags of their nations, signs, and placards proclaiming "psychiatry kills." The march was led by the "grim reaper" and accompanied by six hearses to symbolize the thousands of psychiatric victims who died over the past year, whether from ECT (electroconvulsive treatment) or from suicide or acts of violence incited by dangerous psychiatric medications.
Following the march, CCHR opened its Psychiatry: An Industry of Death traveling exhibit on Potsdamer Platz, a short walk from Brandenburg Gate and the German Federal Parliament. The exhibit, which covers the history of psychiatry from its earliest days to today, lays bare the destruction wrought by psychiatric abuse upon every sector of society. Graphic footage from archival and current films depict psychiatric abuse in action.
Of particular relevance in its Berlin venue was the section of the exhibit documenting psychiatry's role as architect of the Holocaust. It shows that:
German psychiatrists created the "racial hygiene" movement.
The same psychiatrists who carried out the mass murder by involuntary "euthanasia" of more than 70,000 people at psychiatric hospital extermination centers in Germany and Austria between 1939 and 1941 helped establish the killing centers of the Holocaust.
In November 2010, Dr. Frank Schneider, president of the German Association of Psychiatrists, issued a public apology for psychiatry's creation of the ideology that developed Nazi euthanasia and its role in the selection of those to be murdered as well as murdering others themselves.
The exhibit also includes interviews with medical experts and moving accounts from victims and their families, making it the most complete and devastating documentary of psychiatric abuse ever produced.
Citizens Commission on Human Rights (CCHR) is a nonprofit charitable mental health watchdog co-founded in 1969 by the Church of Scientology and professor of psychiatry Dr. Thomas Szasz. It is dedicated to eradicating psychiatric abuse and ensuring patient protection.
With headquarters in Los Angeles, California, CCHR International guides a global human rights advocacy network of some 180 chapters across 34 nations. CCHR Commissioners include physicians, psychiatrists, psychologists, lawyers, legislators, government officials, educators and civil rights representatives.
Source: ScientologyNews.org
Share: