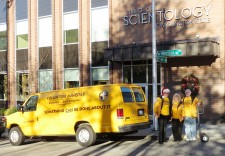 Every holiday season, Seattle's Scientology Volunteer Ministers give back to the community, putting their motto into practice — something can be done about it.
SEATTLE, December 29, 2017 (Newswire.com) - Homelessness is an urgent issue affecting an estimated 8,500 in Seattle. And for 15 years the Volunteer Ministers of the Church of Scientology Seattle have helped address the needs of these and other low-income families by volunteering with Food Lifeline, a member of the Feeding America network.
Just last week, Seattle Mayor Jenny Durkan announced more than $100 million in investments to build and preserve 1,450 affordable homes in neighborhoods across Seattle to provide needed housing in the city. And hunger affects even more.
To help address this urgent issue, in December, Volunteer Ministers repacked 9,325 pounds of rescued bakery and school lunches, creating 7,478 meals for hungry families in Western Washington.
Volunteer Ministers donate time each month sorting and packing food at Food Lifeline headquarters which serves more than 300 food banks, shelters and meal programs, providing the equivalent of 97,000 meals every day to people in need.
"We look forward to many more years of partnering with Food Lifeline and providing help to hungry families," said Anne Pearce, Director of Public Affairs for the Church of Scientology of Washington State in Seattle.
Volunteer Engagement Director for Food Lifeline Renee DeRosier thanked the Volunteer Ministers for their service: "Your kindness and care for our organization and mission mean so much."
The Volunteer Ministers also organized a food and sock drive for the Queen Anne Food Bank in Seattle, collecting more than 1,200 food items and 500 pairs of socks for low-income and homeless individuals.
For more information on the Volunteer Minister program, visit the Scientology website.
Source: ScientologyNews.org
Share: