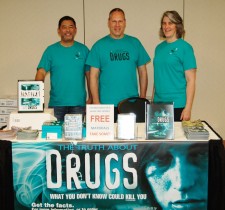 Drug-Free World Volunteers reach out with The Truth About Drugs to school resource officers with factual information about the effects of drugs.
Seattle, Washington, August 11, 2016 (Newswire.com) - Volunteers from the Seattle chapter of the Foundation for a Drug-Free World conducted a training workshop and provided nearly 14,000 copies of drug education materials to law enforcement officials, educators and school resource officers at the Washington School Safety Organization annual conference.​
The goal of the Washington School Safety Organization is to "unite security professionals, educators, and law enforcement to develop effective community partnerships." They work to ensure the safety of Washington's schools, students and staff.
The seminar, delivered by Drug-Free World advisor David Scattergood, showcased a documentary based on some 200 interviews with former drug users called The Truth About Drugs—Real People, Real Stories, and presented the latest statistics on the impact of marijuana use in Washington state.
The Foundation's educational materials, providing the truth about marijuana, heroin, crack cocaine, synthetic marijuana and other frequently abused drugs, were distributed to conference attendees along with educator packages containing a simple classroom curriculum.
Over the past year alone, more than 7 million copies of The Truth About Drugs booklets have been distributed worldwide, They Said, They Lied public service announcements have aired to some 83 million viewers, and visits to drugfreeworld.org have doubled to over 14 million. On average, there are more that 1,000 orders weekly for Drug-Free World materials, which are provided at no charge to educators, school resource officers, law enforcement and others.
In partnership with the Foundation for a Drug-Free World, a nonprofit public benefit corporation dedicated to providing factual educational materials about the dangers of drugs, the Church of Scientology has sponsored and produced a series of 16 award-winning public service announcements on the dangers of drug use and has reached hundreds of millions of people with factual information about drugs through individual distribution of The Truth About Drugs booklet series, drug awareness sites, mailings and educational videos and films.
For more information and to order materials, visit www.drugfreeworld.org.
Source: ScientologyNews.org
Share: