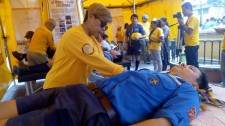 Scientology Volunteer Ministers Guatemala Disaster Response helps the village of Alotenango cope with the present and look to the future.
ALOTENANGO, Guatemala, June 23, 2018 (Newswire.com) - The Fuego Volcano search and rescue effort ended this week—110 died and 197 are still reported missing. The volcano continues to emit four or five minor explosions daily, shooting columns of ash up to 15,420 feet (4,700 meters) above sea level according to CONRED (National Coordination for Disaster Reduction of Guatemala). The zone is uninhabitable and high risk.
A team of some 100 Volunteer Ministers continues its work at the foot of the volcano. With the search and rescue phase now over, the recovery phase begins and the Volunteer Ministers will continue providing relief as long as their help is needed.
Volunteer Ministers collect and distribute supplies including food, water and clothing — most of the survivors had to abandon everything they owned when they ran for shelter when the volcano erupted nearly three weeks ago.
But their spiritual "first aid" in the form of Scientology assists are also in high demand. Assists are techniques developed by Scientology founder L. Ron Hubbard that help the individual overcome the emotional and spiritual factors in stress and trauma. One of the volunteers emphasized the importance of using assists to help people overcome hopelessness and apathy so they can focus on the future and cope with the hardships they now face. The Volunteer Ministers also provide seminars and training in life improvement courses, giving people the skills they need to care for their families under very trying circumstances.
The Church of Scientology Volunteer Minister program is a religious social service created in the mid-1970s by L. Ron Hubbard. Anyone of any culture or creed may train as a Volunteer Minister and use these tools to help their families and communities. The church provides free online training on the Volunteer Ministers website.
In creating the Volunteer Ministers program, L. Ron Hubbard wrote, "If one does not like the crime, cruelty, injustice and violence of this society, he can do something about it. He can become a Volunteer Minister and help civilize it, bring it conscience and kindness and love and freedom from travail by instilling into it trust, decency, honesty and tolerance."
Source: ScientologyNews.org
Share: