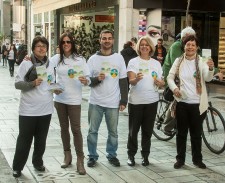 With tempers taut over austerity measures and a crippling seven-year recession, volunteers from the Church of Scientology Athens urge common sense with a nonreligious moral code that can help people turn their lives around.
Athens, Greece, December 29, 2016 (Newswire.com) - Volunteers from the Church of Scientology Athens urge common sense in the face of hardships imposed by seven years of austerity measures with no end in sight.
According to the Manpower Agency of Greece, 40.34 percent of those ages 30-44 are unemployed. Of those registered with the agency, only one in 10 receives unemployment benefits. In a country with no basic welfare system, more than half of those looking for work have been unemployed for more than a year.
While there is no easy fix, the volunteers say The Way to Happiness is a common-sense guide to better living that people can use to improve their lives and the lives of others.
"The people we hand this booklet to agree," said one of the volunteers. "Greece needs such a guide. And many of them ask for more copies so they can pass it along."
The Way to Happiness is a nonreligious common-sense moral code written by author, humanitarian and Scientology Founder L. Ron Hubbard. Greek Scientologists have distributed hundreds of thousands of copies to reduce violence and social turmoil, foster cooperation and encourage initiative.
The Way to Happiness is a practical guide to help people "Be Industrious" "Be Competent" and "Flourish and Prosper" and it provides the moral compass needed to survive no matter the challenges.
The Church of Scientology and its members are proud to share the tools for happier living contained in The Way to Happiness with all who work to build a better world. For more information, visit Scientology.org/thewaytohappiness.
For more information visit the Scientology Newsroom.
Source: ScientologyNews.org
Share: